Rev. Raymond Christian
Rep. William Crawford Champions Indiana Juneteenth Legislation
"We especially appreciate the efforts of State Representative William
Crawford for sponsoring legislation that has made all of this possible,"
states Rev. Raymond Christian,
Director
of the
Indiana Juneteenth Holiday Campaign
for the
National Juneteenth Observance Foundation(NJOF)
.
"Now that Juneteenth is a state holiday observance in
Indiana, I and other Juneteenth supporters in the state will request that

Sen. Richard Lugar

(R-IN) and Sen. Evan Byah (D-IN) co-sponsor legislation in the

U.S. Senate


to make
Juneteenth a
National Day ofObservance
, that will be
introduced by lead sponsor Sen. Roland Burris (D-IL)."

(Indianapolis, IN) - Indiana
has become the 34th state to recognize
Juneteenth as a state holiday or state holiday observance thanks
to legislation introduced by State Representative
William Crawford and passed by the Indiana legislature.


The History of the Modern Juneteenth Movement
National Juneteenth Observance Foundation, is promoting a United States
Commemorative Stamp
.
Click Your state to see the news
Alabama
,
Alaska,
Arizona,
Arkansas
,
California
,
Colorado
,
Connecticut
,
DC
,
Delaware
,
Florida
,
Georgia
,
Hawaii
,
Idaho
,
Illinois
,
Indiana
,
Iowa
,
Kansas
,
Kentucky
,
Louisiana
,
Maine
,
Maryland,
Massachusetts
,
Michigan
,
Minnesota
,
Mississippi
,
Missouri
,
Montana
,
N Carolina
,
N Dakota
,
Nebraska
,
Nevada
,
New Hampshire
,
New Jersey
,
New Mexico
,
New York
,
Ohio
,
Oklahoma
,
Oregon
,
Pennsylvania
,
Rhode Island
,
S Carolina
,
S Dakota
,
Tennessee
,
Texas
,
Utah
,
Vermont,
Virginia
,
West Virginia
,
Washington
,
Wisconsin
,
Wyoming
Puerto Rico
,
Guam
,
USVI
,
Juneteenth
National Day of Observance
Campaign


Senator Roland Burris
(D-IL) Sponsor of the 2009
Juneteenth

Indepedence Day
Legislation in the U.S. Senate
Congressman Danny Davis (D-IL) Sponsor of the 2009
Juneteenth Indepedence Day
legislation in the U.S. House of Representatives..
Dr. Ronald Myers, Sr. M.D. and Governor Jim Doyle share a
moment following the official signing of the Juneteenth Day
legislation.(photo by Harry Kemp)
Read more
Sen. Coggs said, "The signing of this bill on the date of December 1st is particularly significant because on this day 54 years ago, Rosa
Parks was arrested for refusing to give up her seat on a bus for a
white rider in Montgomery, Alabama. Parks and the civil disobedience
she inspired sparked a national movement that climaxed with passage of
the 1964 Civil Rights Act. Wisconsin is the 32nd state to recognize
Dr. Myers (right) treating an elderly patient (left) in Tchula,
Mississippi during a recent house visit with People Magazine.
Gov. Sarah Palin was presented with a copy of the book, "Juneteenth a Celebration of Freedom" Read More
follows 24 states that have recognized the date." title="Governor Deval Patrick shook hands with children after signing a proclamation onJuneteenth in Dorchester yesterday. Massachusetts
follows 24 states thathave recognized the date."
Governor Deval Patrick shook hands with children after signing a
proclamation on Juneteenth in Dorchester yesterday. Massachusetts
follows 24 states that have recognized the date.

GALVESTON JUNETEENTH 2010National Holiday Observance
www.njof.org/Galveston.html
Take Action Now!
JUNETEENTH
commemorates the day when slaves in the last geographic area in America where slavery existed learned of their freedom.
This took place
on June 19
, 1865, in Galveston,
Texas, when
union General
Gordon Granger
read
GENERAL ORDER NO. 3

Harriet Tubman with escaped slaves at an

The Underground Railroad was a secret network of safe houses. Those safe houses were houses that the people living in it were against slavery. When going for their freedoms the slaves could stay and eat, rest, and got new clothes.
The Underground Railroad Started in the south states (the states were slavery was aloud) and ended in the north states (the states were slavery wasn't aloud).
Harriet Tubman's Role in Montgomery's Raids
Harriet Tubman, often called the "conductor" of the
Underground Railroad, accompanied Colonel James Montgomery and the 2nd
South Carolina regiment during the June 1863 raids on the Combahee River rice
plantations. Tubman was a runaway slave and a major conductor on the
underground railroad who helped dozens of enslaved blacks escape and
led them to sanctuaries in the Northern states and in Canada.
Read more..
ABOUT THE UNDERGROUND RAILROAD
Harriette "MOSES" Tubman
She never lost a passenger on the underground railroad .
Among her passengers were musicians, future politicians and many others who help to build this great nation in which we live! Little did we know her actions would help create and preserve a legacy..
African chants & drums, field songs, gospel,
blues, ragtime, fiddles, and horns
African American Classical Music "JAZZ" was born!
Guided by her "visions," she has never lost a passenger. Even if Moses can't fit you into her next group, she'll tell you how to follow the North Star to freedom....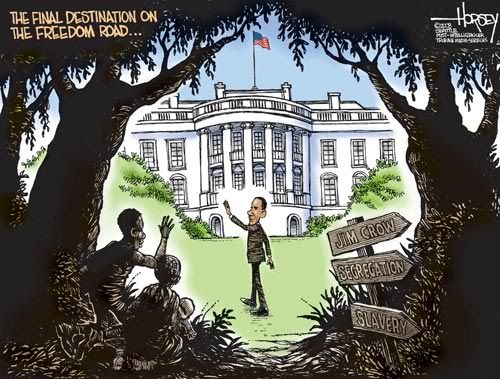 What journey....this is my stop. Tell Harriette thanks!
CHANGE!
President Barack Obama must put the icing on the cake and bring closure to the millions of African Americans who were taken from their homeland and forced into over 400 years which is considered as one of the most ugly chapters in U.S. history.
Issue and sign a proclamation with a celebration at the
White House or the U.S. Capital
The
Emancipation Proclamation
was signed by President Abraham Lincoln on September 22, 1862, and
issued on
January 1, 1863.

14th Amendment
to the U.S. Constitution
14th Amendment to the Constitution was ratified on July 9, 1868, and granted citizenship to "all persons born or naturalized in the United States," which included former slaves recently freed. In addition, it forbids states from denying any person "life, liberty or property, without due process of law" or to "deny to any person within its jurisdiction the equal protection of the laws." By directly mentioning the role of the states, the 14th Amendment greatly expanded the protection of civil rights to all Americans and is cited in more litigation than any other amendment.
It took over two and a half years for the news to
Read More
Slavery Home
Part I: The Slave Trade: Early Roots in Britain
Part II: The Fugitive Slave Law
Part IV: Emancipation Proclamation
REMEMBER TO PAUSE MUSIC PLAYER WHEN WATCHING VIDEOS
A War For Your Soul-Birmingham version from Erisai Films on Vimeo.
Myers urges Presidential Proclamation Read More

SLAVE TRADERS OF WALL STREET:
Investments Banks and Trans-Atlantic Slave Trade
THE TRANS-ATLANTIC SLAVE TRADE DATA BASE HAS INFORMATIONON ALMOST 3...



Look for particular voyages in this database of documented slaving expeditions. Create listings, tables, charts, and maps using
information from the database.






Slaves on documented voyages represent four-fifths of the number who were actually transported. Use the interactive estimates page
to analyze the full volume and multiple routes of the slave trade.






This database identifies over 67,000 Africans aboard slave ships, using name, age, gender, origin, and place of embarkation.