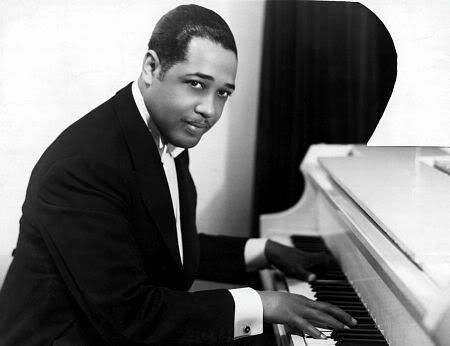 RONNIE BURRAGE AND DUKE ELLINGTON
Pause music player when viewing videos

Find more music like this on WASHINGTON DC JAZZ NETWORK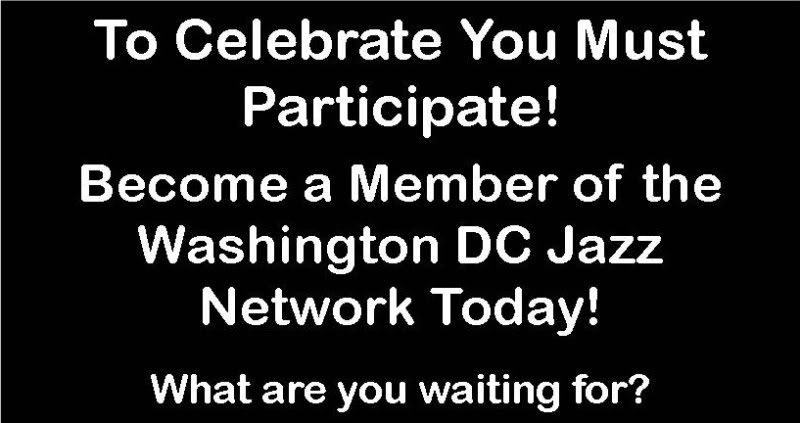 www.washingtondcjazznetwork.ning.com
Dear George, Thank you so much for all you have posted about my precious husband on your wonderful website and for asking for continued prayer
for Moody. Much love to everyone in the Washington, D.C. area and your
wonderful network. Love, Linda
Sat, 13 Nov 2010 18:39:10
Celebrating the Legendary "JAMES MOODY" A Member of the Washington ...

Thanx for admitting me as a member of that wonderful website. Jazz is really the 20th century "classical" music. It's the most beautiful
expression of American culture. Thanx too for Benny's picture. The last
time I saw him, he was plenty drunk but plays like a god. The other
fellows musicians who played in the band looked at him just like he was
Santa Claus : here's some pictures of the concert~~~
David Dimov
"CIRCLES' CD RELEASE PARTY
The Smithsonian Jazz Masterworks Orchestra (SJMO) was founded in 1990 with an appropriation from Congress in recognition of the importance of jazz
and its status as a national treasure. Now in the sixth year of its
series with The Smithsonian Associates, the orchestra delves into jazz's
greatest works and performers, including Artie Shaw, Duke Ellington,
and Gerry Mulligan.
Smithsonian Jazz Masterworks Orchestra
The SJMO is led by artistic and musical director David N. Baker.
Holiday Jazz Band Concert
Full Orchestra

Saturday, December 4 - 7:30 p.m. to 9:30 p.m
Bring in the holiday season with swingin' holiday classics at the fourth annual SJMO holiday jazz band concert. Hear everything from Duke Ellington and Billy Strayhorn's lively reworking of Tchaikovsky's "Nutcracker Suite" to "God Rest Ye Merry,
Gentlemen."
8:30PM-9:30PM
November 20, 2010
2001 11th Street
Washington D.C., DC 20001-4013

1069 Wisconsin Avenue Northwest
Washington D.C., DC 20007-3635

Thursday, November 18 thru Friday, November 19
JEFF "TAIN" WATTS QUARTET
(Drums)
$27.50 **Two shows: 8PM & 10PM
BUY TICKETS ONLINE
more info
Grammy-winning jazz vocalist Kurt Elling
in the Kennedy Center Terrace Theater
Grammy winner Kurt Elling remains one of today's preeminent male jazz vocalists.
This concert of music from Elling's soon-to-be-released recording includes his signature vocalese takes on songs of such varied artists as Wayne
Shorter and Stevie Wonder.
Nancy Wilson
Fri, Apr 22, 2011
8:00 PM
Music Center at Strathmore

Ravi Coltrane Quartet
Saturday, November 20, 2010 at 8pm
Sixth & I Historic Synagogue
He may bear the name of jazz royalty, but saxophonist Ravi Coltrane, the son of the legendary John Coltrane and pianist Alice Coltrane, "blows an
original and distinctly modern strain of jazz, distilling but never
seeking to imitate his family's adventurous improvising spirits" (NPR).
Featuring
Ravi Coltrane, saxophone
Luis Perdomo, piano
Drew Glass, bass
E.J. Strickland, drums
Tickets are available at WPAS.ORG or 202-785-WPAS (9727).
I am very happy to be among so many people who are interested in
preserving and keeping this great art called "Jazz" alive!
I look forward to hearing from you soon.
The Washington DC Jazz Network Welcomes "GiGi Brooks"
Vinx is coming! Vinx is Coming! Vinx is Coming to Washington DC @ B...
Lutalo Olutosin [pronounced O-la-TO-sin]
Born in East Chicago, Indiana. Raised during early life in Gary, Indiana, Lutalo (Lu) moved to the South East in the mid 1970's. Influenced heavily by a family filled with Gospel singers and musicians, he followed suit until hearing an Eddie Jefferson song on the radio. Everything changed, especially his approach to listening, judging, and singing the music that inspired him.

A message to all members of WASHINGTON DC JAZZ NETWORK
George V, you are now an official ambassador for multi-culturalism
It's a pleasure to make a donation to this Fabulous Website!


Can not even imagine effort that has gone into creation of this site. Outrageous! Working B3
player....when work is available.. Former educator Trenton NJ~~~ Tom Pass



Early Bird 2011 Site Operation Drive
We are now accepting 2011 Early Bird contributions
To all members who are using the services of WDCJN by promoting and networking. Beginning January 2011, we are asking all members to consider making a yearly donation to the Washington DC Jazz Network to help cover the cost of maintaining this wonderful site.
For the past 2 years the WDCJN has been featuring artist and venues as well as email blasting events to over 1 million jazz fans gratus. As you know it takes many hours of hard work and creativity.
The Domino Effect
Over 500 blogs gratus that have benefited concert halls, jazz clubs, restaurants, churches, social clubs, jazz societies, radio stations, print media, booking agents, artist, schools, universities, bartenders, waiters, staff, and owners etc. Everyone is getting paid except the Network!!! This blog is being email blasted to over 50,000 jazz fans throughout the Metropolitan Tri-state area and the world.
It cost $500.00 per year for this Ning site.
The 8th of each month
It's time to give back to the network!
Your donation of any amount would help. We understand the economy.
Celebrating 2 years December 25, 2010
Feel free to make a EARLY BIRD Contribution today!
The Washington DC Jazz Network is an all exclusive members site
We don't accept any grants or funding from any government sources
Your donation of any amount would help. We understand the economy.
Take five minutes of your time and support the Washington DC Jazz Network now. Go to www.paypal.comuse the following email (wdcjn@hotmail.com) Every little bit helps. It's easy and secure. Show some love by making a donation here Today!
Each member has a personal page that is 12-20 levels deep depending upon how many of the over 250 applications they choose to add to their page with a simple drag & drop. Our email blasts reach over 3 million people. If this is a value you think is important to your interests, please take advantage of it. All donations received are reinvested in maintaining the WDCJN and preserving 'America's Indigenous Art Form "JAZZ". The Washington DC Jazz Network is an all exclusive members site.
Suggested donation: $50.00 per year or more and received a photo membership card & one free event email blast to 10,000 fans or two free event email blast to 5,000 fans each.
Membership cards will be good for discounts at participating venues. Take advantage of this opportunity today!
Thank you very much~~~WDCJN
www.washingtondcjazznetwork.ning.com