Bohemian Caverns
2001 Eleventh Street N.W.
Washington, DC 20001
Reservations Recommended
Call - 202-299-0800
Get Tickets
Legendary Jimmy Scott
at Bohemian Cavernsproduced by Jill Newman Productions
This Friday & Saturday May 21 & 22

2 Shows: 8:30 & 10:30

Click link below to listen to the Interview:





Jimmy Scott (July 17, 1925 in Cleveland), aka "Little" Jimmy Scott, is an American jazz vocalist.

Lionel Hampton gave him the stage name of "Little Jimmy Scott" because he looked so young, and was short and slight of build.





However, it was his extraordinary phrasing and romantic feeling that made him a favorite singer of fellow artists like...



Dinah Washington



and Nancy Wilson.



Scott was born in Cleveland, Ohio to Authur and Justine Stanard Scott, third in a family of ten. As a child he got his first singing experience by his mother's side at the family piano, and later, in church choir. His father was absent most of the time as he was taken with drink, gambling, and other women. Jimmy worshipped his mother, and whatever money he could make doing odd-jobs, went to her to help the family. At thirteen, he was orphaned when his mother was killed by a drunk driver. Witnesses say that she pushed one of Jimmy's siblings out of the way of a speeding car but, in the process of saving her child's life, lost her own.




Early career


Scott first rose to national prominence as "Little Jimmy Scott" in the Lionel Hampton Band when he sang lead on the late 1940s hit "Everybody's Somebody's Fool", recorded in December 1949 and which became a top ten R&B hit in 1950.
Credit on the label, however, went to a 'male vocalist', a slight to his talent and a blow to his career. A similar professional insult occurred several years later, when his vocal on "Embraceable You" with Charlie Parker, on the album "One Night in Birdland", was credited to female vocalist Chubby Newsome.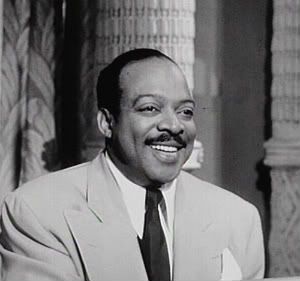 Some of the early big bands Jimmy enjoyed were Count Basie's Band,
Erskine Hawkins,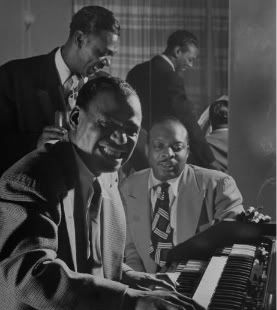 and Father Earl Hines, but Lester Young was his favorite tenor sax player. He joined Lionel Hampton's Band in 1948, where he discovered the vibraphone and the strings, Jimmy said "it helped him to learn the beauty of the song and encouraged him to sing".
Lionel was a mentor to Jimmy and the one who tagged him with the stage name, "Little Jimmy Scott", at the time he was 23, only 4'11", thin, and very young looking. Jimmy said it was a gimmick for Lionel's show, but it wasn't too many years later that you started hearing more singers take their cue from Jimmy's stage name and call themselves Little So & So.
Everybody's Somebody's Fool - JIMMY SCOTT
Charlie Parker - Embraceable You - 1947
Little Jimmy Scott--Someone To Watch Over Me
Sometime I Feel Like a Motherless Child
Little Jimmy Scott--Imagination
In 1963, it looked as though Scott's luck had changed for the good. Signed to Ray Charles's Tangerine label, he recorded under the supervision of Charles himself, creating what is considered by many to be one of the great jazz vocal albums of all time, Falling in Love is Wonderful.

Owing to obligations on a contract Jimmy had signed earlier with Herman Lubinsky, the record was yanked from the shelves in a matter of days, while Jimmy was honeymooning. 40 years later this cult album became available to the public again. Jimmy disputes the 'lifetime' contract; Lubinsky loaned Jimmy out to ....


Syd Nathan at King Records for 45 recordings in 1957 & 58.
Another legendary masterpiece, the album The Source (1969), on which Jimmy sings as intensely as ever, was not released until 2001.
Scott's career faded by the late 1960s and he returned to his native Cleveland to work in a hospital and as an elevator operator in a hotel.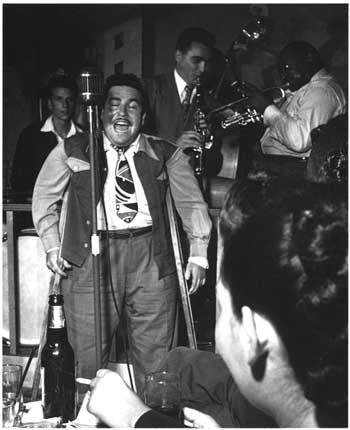 Scott resurfaced in 1991 when he sang at the funeral of his long-time friend Doc Pomus.

Afterwards Lou Reed recruited him to sing back-up on the track "Power and Glory" on his 1992 album Magic and Loss, which was inspired, to an extent, by Pomus' death.



Afterwards, Scott was seen on the series finale of David Lynch's show Twin Peaks, singing "Sycamore Trees." He was featured on the soundtrack of the follow-up film Fire Walk With Me. This brought him to the attention of the music industry and he has enjoyed significant success since then.



His comeback took off in earnest with the 1992 release of the album "All The Way" on Sire Records, produced by Tommy Lipuma and featuring artists such as





Kenny Barron,



Ron Carter,


and David "Fathead" Newman.
Jimmy Scott was nominated for a Grammy Award for this album.
He followed this up with the album "Dream" in 1994, and the jazz-gospel album "Heaven" in 1996. He also recorded an album of mostly pop and rock covers, "Holding Back the Years" in 1998, including his own version of Prince's Nothing Compares 2 U (a world hit for Sinéad O'Connor).
In 1999, his early recordings on the Decca label were re-released on CD,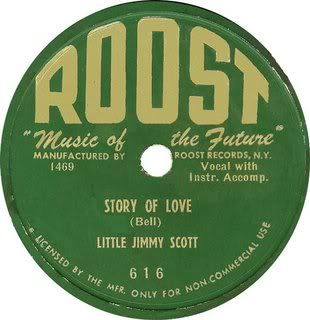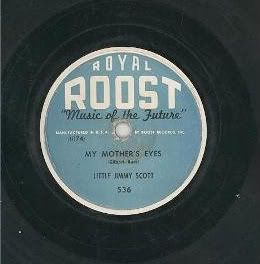 as were all of his recordings with the Savoy Label between 1952 and 1975 in a 3 disc Box Set. In 2000, Jimmy Scott was signed to the Milestone jazz label, and recorded four critically acclaimed albums,
each produced by Todd Barkan, and featuring a variety of jazz artists, including Wynton Marsalis, Renee Rosnes, Bob Kindred, Eric Alexander, Lew Soloff, George Mraz, Lewis Nash, and many more, as well as Jimmy's own touring and recording band "The Jazz Expressions". He also released two live albums, both recorded in Japan, and featuring the Jazz Expressions.
Jimmy Scott's career has spanned sixty five years. He has performed with a list of artists that reads like a history of jazz music of the time, including

Charlie Parker,



Sarah Vaughan



Lester Young,



Lionel Hampton



Charles Mingus



Fats Navarro



Bud Powell



Ray Charles



Wynton Marsalis,

He has also performed with a host of musicians from other genres of music, such as David Byrne, Lou Reed, Flea, Michael Stipe, and Antony & The Johnson's.




Scott performed at President Eisenhower's (1953)



President Clinton's (1993) Inaugurations where he sang the same song "Why Was I Born".

Most recently he has appeared in live performances with Pink Martini, and continues to perform internationally at music festivals and at his own concerts.





In 2007 Jimmy Scott received the 2007 NEA Jazz Masters National Endowment of the Arts Jazz Master Award.



Scott also received the Kennedy Center's "Jazz In Our Time" Living Legend Award, and N.A.B.O.B.'s Pioneer Award in 2007. In September 2008 he did a "two-day video interview" at his Vegas home with the "Smithsonian Institute for the National Archives".

Scott is working on a new album "I Remember You" dedicated to his wife Jeanie. Along with "Special Guest" Artists & Duets, this CD will be uniquely different from anything he's ever done before and is planned for release on his Wedding Anniversary, New Year's Eve December 31, 2009.


For the last three years Scott and his wife Jeanie have been living in Las Vegas, Nevada, after living in Euclid, Ohio for 10 years.


Some of the others who worked with Caldonia at one time or another were




Ruth Brown,


Big Maybelle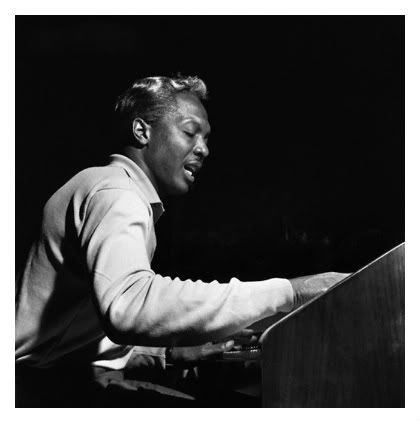 Elie Adams, and Jack McDuff. Caldonia took Jimmy along with her to do a special performance at Gamby's in Baltimore in 1945,

Redd Foxx


Albums



* Very Truly Yours (Savoy) (1955)

* If You Only Knew (Savoy) (1956)
* The Fabulous Songs Of Jimmy Scott (Savoy) 1960)
* Falling In Love Is Wonderful (Tangerine) (1963) (Re-issue 2003)
* The Source (Atlantic) (1969) (Re-issue 2001)
* Can't We Begin Again (Savoy) (1975)
* Doesn't Love Mean More (J's Way) (1990)
* Live In New Orleans (1951 Concert) (Fantasy) (1991)
* All The Way (Sire) (1992)
* Dream (Sire) (1994)
* Heaven (Sire) (1996)
* Holding Back The Years (Artists Only) (1998)
* Mood Indigo (Milestone) (2000)
* Over The Rainbow (Milestone) (2001)
* Unchained Melody (Live Album) (Tokuma) (2001)
* But Beautiful (Milestone) (2002)
* Moonglow (Milestone) (2003)
* All Of Me: Live In Tokyo (Venus) (2004)
* Pearls album by Dave Sanborn (Alto Sax) featuring Jimmy Scott

Compilations


* Lost And Found (Rhino) (1993)

* Bravo Profiles: A Jazz Master (Bravo) (1993)
* All Over Again (Savoy Jazz) (1995)
* Everybody's Somebody's Fool (Universal) (1999)
* The Savoy Years & More (Box Set) (Savoy Jazz) (1999)
* Les Incontournables (Warner) (2000)
* Timeless (Savoy Jazz) (2002)
* Someone To Watch Over Me (2-Disc) (Warner) (2004)
* The Essential Jimmy Scott (Metro) (2005)
* Milestone Profiles: Jimmy Scott (Milestone) (2006)

Filmography


* Twin Peaks – "29-Beyond Life and Death" (1991)

* Scotch & Milk (1998)
* Chelsea Walls (2002)
* Stormy Weather: The Music of Harold Arlen (2002) (TV)
* Jimmy Scott: If You Only Knew (DVD) (2003


An Advocate for Preserving
America's Classical Music "JAZZ"
It's African American Legacy, Heritage and Roots of the Music.

Executive Director & Founder
Washington DC Jazz Network
LARRY RIDLEY
Executive Director
AFRICAN AMERICAN JAZZ CAUCUS
212-979-0304
African American Jazz Caucus
Official Website
WORKING TOGETHER WORKS!
MISSION: The African American Jazz Caucus, Inc., is dedicated to protecting, preserving and perpetuating the rich cultural heritage of jazz, which is one of our indigenous musical art forms.
PRESERVING THE JAZZ LEGACY
Jazz is an art form which has its origins, spiritual, heritage and cultural roots in Africa, African American communities and the African Diaspora. The African American Jazz Caucus, Inc. (AAJC), is proactively working to maintain the aesthetic integrity, heritage, legacy and historical facts germane to the music. We are engaged in creating programs and providing services to further jazz education and jazz audiences. The Caucus invites and encourages proactive members to share their expertise in our networking with national and international communities.
THE GEORGE V JOHNSON JR SHOW
Washington DC Jazz Network
THE GEORGE V JOHNSON JR SHOW
Blog Talk Radio

PAUSE THE MUSIC PLAYER BELOW WHILE LISTENING TO BLOGTALK INTERVIEWS: