JOE CHAMBERS
"The Sentiquential Musician, Composer, Arranger of Modern Times"
I'm most appreciative of this very comprehensive "blog', put together by the very talented Mr. George V. Johnson Jr. In fact, it is more than a "blog" to me; it almost reads like my professional life history in music. It is very thorough, and professional. I recommend every musician, who is interested in marketing, and promoting him or herself, contact Mr. Johnson and the Washington D.C. Jazz Network.
Join the Washington DC Jazz Network you'll love it here~~~
Composer, Arranger, Drummer, pianist, and vibraphonist
Joe Chambers the Sentiquential Musician, Composer, Arranger of Modern Times....
A Member of the Washington DC Jazz Network
Distinguished Music Professor
University of North Carolina at Wilmington
Available for Bookings, Tours, Festivals, Concerts, Workshops,
Motion Picture, Television sound tracks,  Orchestra & Symphony scores and more...
Click play to listen to samples of Joe Chambers music
   
Find more music like this on WASHINGTON DC JAZZ NETWORK
Joe Chambers has just released a swinging new album "Joe Chambers Moving Pictures Orchestra." Chambers has been described as one of the great drummers to come out of the '60s -- a master of dynamics, percussive color and polyrhythmic density. Also a master of all mallet instruments, piano and a composer, he has performed with most of the modern jazz giants, including Freddie Hubbard, Eric Dolphy, Donald Byrd, Charles Mingus, Wayne Shorter, Chick Corea, Sonny Rollins, Dizzy Gillespie and the Max Roach M'Boom Ensemble.
Chambers has recorded close to 300 albums as a sideman and 10 as a leader. Joe Chambers, the composer, has scored soundtracks for several Spike Lee films and it is his composing and arranging talents which are spotlighted in his most recent album.
The skillful arrangements and his imaginative use of orchestral color certainly places Joe Chambers as one of the most creative and versatile men in jazz today. The stellar ensemble, recorded live at Dizzy's Club Coca-Cola features top New York jazz and studio musicians such as Craig Handy, David Weiss, Conrad Herwig, Xavier Davis and others. With the Moving Pictures Orchestra, Joe Chambers displays a passion for jazz that reaches far beyond the confines of the studio or bandstand, beyond genre and characterization, beyond even the music and extends into the culture itself.
Listen to this master of the mallet play the classic "Poinciana."
Joe Chambers Moving Pictures Orchestra 
To Purchase click links below 
Joe Chambers Moving Pictures Orchestra – Amazon
Born and raised near Philadelphia to a musical family, Joe Chambers heard not only the rock and roll of Louis Jordan and Slim Gaillard, but the classical of Vivaldi, Wagner, Beethoven and Mahler. Drums came early. "I think an instrument picks you. I used to play on post and pans when I was little. I was setting them up like a kit at four years of age, so the instincts were there."
More taken with Lester Young and Lionel Hampton than Little Richard, Chambers nonetheless soon joined a band playing all the R&B hits of the day. "We played 'house rock,' horn players walking the bar like Big Jay McNeely and Tiny Bradshaw. But then I started hearing esoteric jazz like Miles Davis, and that grabbed me. When I heard that at age 13, immediately I was hooked."
Chambers' parents also played a big role in his musical vision, and prompted him to learn more. "The level of music that they listened to compared to today was just incredible, in terms of popular culture. Bebop is the most revolutionary period in American music. I call it the era when drummers freed themselves, from Jo Jones to Kenny Clarke to Max Roach.
Preachers used to preach against jazz.
Then the people stopped dancing killing the big bands.  Bebop moved jazz from folkoric to a more cult-oriented and intellectual sound. That's why R&B came in. There was a need for more proletarian music. Bebop became cult music. It was a revolutionary time. I witnessed all of that." 
Earning his undergrad degree in music from the Philadelphia Conservatory of Music by age twenty-two Chambers had cut his first session with Freddie Hubbard's....
Breaking Point album. The snowball began , from the aforementioned recording sessions to road work with
Harold Land,
 Sonny Rollins, 
Herbie Hancock
Eric Dolphy,
I think the idea is now for blacks to write about the history of our music. It's time for that, because whites have been doing it all the time. It's time for us to do it ourselves and tell it like it is~~Dizzy Gillespie
A member of the '60s fraternity that recorded some of Blue Note's greatest music,
Joe Chambers can lay claim to a place alongside such innovative artists as Freddie Hubbard,
 Max Roach "M'Boom" - A series of recordings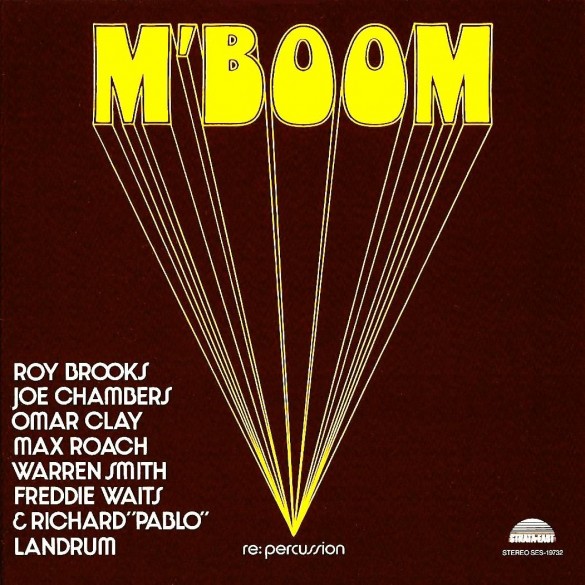 M'Boom Meets The World Saxophone Quartet
Wayne Shorter,
McCoy Tyner,
Bobby Hutcherson.
Chambers' intense drumming, a trademark blend of cymbal-driven forward motion, deep rhythmic continuity, and explosive creativity, graced many landmark albums which fostered one of the most fertile eras in recent jazz memory. Chambers' credits include Hubbard's Breaking Point, Hutcherson's Components, Shorter's Schizophrenia and Etcetra, Hill's Compulsion, and Tyner's Tender Moments, as well as Archie Shepp's New Thing at Newport, Charles Mingus' Like a Bird, and Chick Corea's Tones for Joan's Bones and many others.
Chambers' legacy is not only as drummer extraordinaire. A conservatory trained musician, Chambers' compositions have been covered by Hutcherson, Hubbard, and M'Boom. More recently, folowing a handful of fine solo recordings,
Chambers scored soundtracks for several Spike Lee films, including Mo' Better Blues & Crooklyn. Still, for all his accomplishments,
Joe Chambers is a very humble, almost self-deprecating musician. For all the profound music of which he's played a role, Chambers views his legacy as a day in the life. "When we were making those records we weren't thinking about making history, we were just doing it at the time. You have to realize, I was engrossed in all the subplots of the '60s. In those days it was a different mind set. It was tied to the anti-establishment, anti-war peace and love thing. I was hooked up with that. We didn't talk about peace and love, but we were definitely spaced out. We were making the music."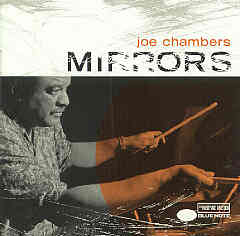 Mirrors marks Joe Chambers' return to the Blue Note fold. Including compositions both old and new, with renditions of material by Rod Temperton and Janet Jackson, the album spotlights Joe Chambers as not only a highly influential drummer (who still burns), but as a composer with a special touch. Seemingly sidelined after the whirlwind of the 1960s,
Chambers continued to write, play and perform. Joe Chambers Plays Piano, Double Exposure, Phantom of the City, and The Almoravid displayed a subtle hand at work, the result of his early classical influences and invaluable experience with such heavyweights as Wayne Shorter and Andrew Hill.
Mirrors shows Chambers to be his own man, a dedicated perfectionist, who, while cut from '60s cloth, has followed his own path to realize a sublime, swinging, soulful music. The compositions on Mirrors flow, one into another, with an undeniable purpose and logic. Nothing is without reason, each song resolving, then opening into the next. The title has special meaning for Chambers. "Actually, there is a twofold meaning. The psychological meaning is that back inthe '60s I was introspective, and that has continued in my life, always looking at mirrors. On a technical side, it designates a type of writing called mirror writing. It's a style of composition where the theme returns and is examined in a song. You turn it up, you turn it down, you look at it from many directions."
Mirrors' lineup reflects Chambers' past and present: Vincent Herring, saxophones; Eddie Henderson, trumpet; Mulgrew Miller, piano; and Ira Coleman, bass. Chambers performs on both drums and vibraphone. Like a suite, Mirrors tells a story where each tale is connected, where the musician's performances reveal deeper shades of meaning upon...
Joe Chambers live at UNCW
Performed with:
Freddie Hubbard

Joe Henderson
Wayne Shorter
Donald Byrd
Andrew Hill
Archie Shepp,
Miles Davis,
David Murray,
Roy Brooks
 Hamiet Bluiett

Charles Mingus

Chick Corea
McCoy Tyner
Lee Morgan
Craig Handy
David Friedman

Dick Oatts
Eddie Martinez

Steve Berrios
Lew Soloff
Ray Vega

Vincent Herring
Mulgrew Miller

Ira Coleman and many more jazz greats...