8TH ANNUAL D.C. JAZZ PRESERVATION FESTIVAL
SATURDAY, SEPTEMBER 26, 2009 - 12 NOON TO 8 PM
Join us for this exciting day-long jazz celebration with some of D.C.'s finest players including Buck Hill, George Botts, Butch Warren and many more. This day gives us an opportunity to share our own stories of growing up with jazz. Please invite a friend and join us for this wonderful event.
Dinner served all day - Vendors offering displays and demonstrations; others welcome
STRAIGHT AHEAD & STANDARDS & CLASSICAL
FOOD & REFRESHMENTS
12 to 8PM - 6TH & I STREET SW PARK
( NEXT TO WESTMINSTER CHURCH)
SHOWS WITH FRIENDS & JAM SESSIONS
OPENING ACTS
12PM - MAURICE LYLES & JACKIE HARISTON
1PM - SHARON CLARK, CHRIS GRASSO & LENNY ROBINSON
2PM - NASAR ABADEY & FRIENDS
3PM - DEANDRE HOWARD COLLECTOR'S EDITION
4PM - GEORGE BOTTS & WADE BEACH, DAVID JERNIGAN
VARIOUS MUSICIANS SCHEDULED IN BETWEEN AND
5-8PM - MUSICIANS & VOCALIST
BUCK HILL, ERNIE DOUGLAS, JAMES KING, LYLE LINK, WES BILES, PERCY SMITH, MICHAEL HARISTON, CHRISTINE KEY, MICHAEL THOMAS, ANTONIO PARKER, MAVIS WATERS, KEITH MATHIS, MELVIN MILES, JERRY GORDON, MARSHALL KEYS, EMERY DIGGS, RON COMPTON, DEANDRE HOWARD, CHRISTINE KEY, VINCE SMITH, BILL WASHBURN, HERMAN BURNEY, EMERY DIGGS, VINCE EVANS, PAUL CARR, CHERYL JONES, BUTCH WARREN, KAREN LOVEJOY, BUBBLES DEAN, NOBLE & NATHAN JOLLEY, SANDRA JOHNSON, ARNOLD STERLING, WENDALL SHEPARD, KENT MILLER, RON KERNS, MUNEER NASAR, GEORGE JOHNSON, BILL HAYMAN, EARL WILSON, DAVID JERNIGAN,GREG BOYERS, MICHAEL CANTY, CLYNT HYSON, JULIAN HIPKINS, ALVIN TRASK, BONNIE HARRIS, KENNETH HOLMES, MATVIE SIGOLOV, HERBERT DRAKE, DONNIE WESWEST, GREG LAMONT, THAD WILSON, BOB BUTTA, BILL CLARK, JOE BURDEN, AND MANY MORE...
Southwest @Westminster Church
JAZZ NIGHT in Southwest is a cultural arts project which works to preserve the art of Jazz in the D.C. area. Its work and activities include:
~ A weekly Friday performance venue featuring the best of live D.C. jazz
~ Regular educational programs designed to expand appreciation and knowledge of jazz such as
THINKING ABOUT JAZZ
~ Outreach activities which take live jazz to senior centers, hospitals, and community settings where people gather to appreciate lively performances through the Community Connections project
~ Gathering and archiving jazz artifacts especially oral histories of musicians and jazz lovers in a Heritage & Archive collection
~ Youth music learning activities including Intergenerational Networking
~ The presentation of special events including the annual D.C. Jazz Preservation Festival
All these things are nurtured through the assistance of our much-valued D.C. jazz artists and within the confines of a supportive community of Jazz lovers. Please join us in this most exciting and rewarding work!
Jazz Night in Southwest has grown continually since its inception over 10 years ago and has presented wonderful performances every Friday without exception for all these years. It happens because of the support and participation of so many wonderful people. It is a true blessing! The gifts of our D.C. musicians and the appreciation of those of us gathered renews our sense of love, joy and unity. Please share this wonderful experience of community and welcome those you care about.
Much love,
Dick Smith, Jazz Program Director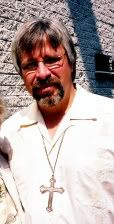 Rev. Brian, Co-Pastor, Westminster Church and SRDC President
Westminster Church Office Website
Jazz Night happens because of the generous support of many individuals and these organizations. We appreciate your support!
Generous support comes from the D.C. Commission on Arts & Humanities, an agency supported in part by the National Endowment for the Arts.
Jazz Night is a project of Southwest Renaissance Development Corporations.
For a full schedule and more information please go to
www.westminsterdc.org/jazz.htm

Directions and and information on the free Shuttle Bug from Waterfront Metro may be found there.
George V Johnson Jr
Executive Director
Washington DC Jazz Network
wdcjn@hotmail.com
240-691-3868
"THE GEORGE V JOHNSON JR SHOW"
Washington DC Jazz Network
THE GEORGE V JOHNSON JR SHOW
Blogtalk Radio - Call in 347-637-3988
TURN OFF MUSIC PLAYER BELOW BEFORE LISTENING TO INTERVIEWS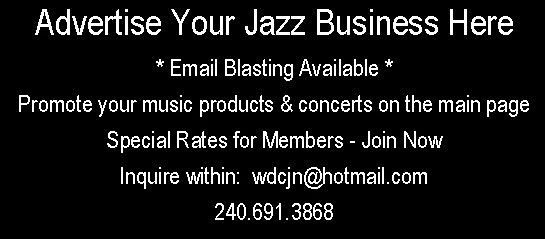 Pass along to your friends or attach to your email list by clicking the SHARE button below. After clicking SHARE, click more options, post on myspace, facebook, digg, twitter or attach to your email provider with just one click.
To Celebrate you must participate!
Click the Share button now!