Welcome to the Washington DC Jazz Network, your source of Jazz in the Nation's Capital and the world.
Dr. Nelson Harrison & Freddie Redd

FREDDIE REDD
Since his emergence as composer of the score for Jack Gelber's harrowingly exact play,
The Connection, Freddie Redd has finally been gaining some of the recognition that has eluded him for much of his
playing career. Freddie also plays the taciturn pianist in the play
with convincing effect. Although he hopes to work again in the theatre,
Freddie remains essentially a jazz player-writer, and this album
underlines his growth as a composer of vigorously expressive jazz
originals. Freddie has been writing since he started playing. In both
disciplines, he is largely self-taught.
Born in New York, May 29, 1928, Freddie came of a moderately musical family. His mother sang in church, and still does; and his father, who died when Freddie was not yet a year old, had played piano. Unlike most professional jazzmen, Freddie didn't take up an instrument until quite late in his teens. Around 1946, when he was in the Army, Freddie began to pick up the piano on his own. After being discharged, he studied for a month at the Greenwich House Music School in New York, but he became so proficient through his own investigations that he left school to take his first professional job, a jazz gig in Syracuse. With him, by the way, was
tenor saxophonist Tina Brooks. After Syracuse, he free-lanced in
Harlem, especially in a sit-in room called Club Harlem where pay was
small but the chance to learn before an audience and other musicians
was extensive. Meanwhile, he was absorbing a number of influences.
The first jazz record he recalls having had a sharp impact on him was the
Charlie Parker--Dizzy Gillespie "Shaw' Nuff" to which he was exposed in
the Army. Later, Freddie heard Bud Powell.
"Bud really got me started. I'd never heard a pianist play quite like that--the remarkably fluent single lines and the pretty chords. In time, Thelonious Monk got to me too. Actually, however, I've been influenced by many things I've heard on a lot of instruments. What I do is try to piece together what stimulates me into my own way of feeling things musically."
By 1953, Freddie had joined Cootie Williams and spent a stimulating year
traveling mostly through the South. Back in New York, Freddie started
working with vibvist Joe Roland and began to be heard quite often at
Birdland's informal Monday night sessions. In 1954,
Freddie was with Art Blakey, and then for a time he seemed to have disappeared. He turned up in Sweden on a tour with Rolf Ericson, joined Charlie Mingus's Jazz Workshop in 1956, and when Mingus went to the coast, Freddie left the band there. He was based in San Francisco for six
months, and returned to New York where he did some recording but was
inactive on the club scene. After several years of shuffling, the
chance came to write the music for and appear in The Connection.
Freddie has been at the Living Theatre on Sixth Avenue ever since. He
doesn't find the long run dull since "something different happens every
night," but he would like to form his own group and go back into the
clubs. He was particularly anxious to work out some of his ideas on how
jazz writing and playing can be productively interrelated in this album
and the result, he feels, has given him more confidence than any
experience since his scoring The Connection. --NAT HENTOFF, from the
liner notes, Shades Of Redd, Blue Note
Freddie Redd that is- consummate improvising keyboardist/composer whose original score on Blue Note for Jack Gelber's searing play "The Connection"
reverberates eternally down the marble halls of the charm(ed) school of indelible jazz, thanks to Freddie's bewitching melodicism, nimble pianistic pyrotechnique,

and the keening cry of
Jacke McLean on alto (there's also a recording of Freddie's score on Felsted acquired on a

Japanese CD reissue some years ago,
with trumpeter Howard McGhee an extra added ingredient in the original mix, his quintet actually listed as the featured artist, Freddie ghosting his own parts under the
moniker

"I Ching")
Outside of Herbie Nichols,
Freddie Redd is one of the greatest unsung ivory-huntin' heroes of jazz and a very nice man for sure. Freddie is given a hero's welcome, tumultuous ovation by the
nearly sold-out, ecstatically cheering crowd where he plays, a joyous whooping throng which included such luminaries. Freddie tremendous form with his fluid technique and improvisational genius on full display,
fully undimmed over the years, and in the excellent company of hard bop saxmen

Lou Donaldson
or smoking Donald Harrison.
One cliff-hanging moment occurred at a New York club, when stalwart veteran bassist Mickey Bass's hand seized up at the top of the second set with Redd.
Without a moment's hesitation young Dwayne Burno came up out of the audience, jumped onstage, stepped up to the plate, picked up Mickey's acoustic bass while they guided the ailing older jazzman gingerly offstage...and without missing more than about 4 bars mit out bass proceeded to kick it up a notch, or 2, or 3--BAM!!--(as in, Bassist A Mofo...or au Go Go...life's a flow-flow)--to the bass manner born, in other words (in point of fact Dwayne as it turns out is Donald Harrison's regular bassist and had actually played most of these
Redd compositions before...so it wasn't QUITE the miracle it looked to be to the crowd...still, it was pretty damn awe-inspiring, as young Dwayne literally saved the day for night. As with so many overlooked
artists, you couldn't exactly call this a comeback gig for Freddie Redd (although it was billed along those lines)--as his musical gifts had never deserted him.
Born in New York City, May 29, 1928, Freddie Redd has seen and made a lot of music. Although his recordings are sparse, his talent is immense, both as a composer and performer. While he was exposed to music early it wasn't until he was in the military, in 1946, that it was clear what he was going to do with his life.
In his own words: "...it just blew my mind! it was Charlie Parker and Dizzy Gillespie playing SHAW' NUFF. Now I'd learned a little boogie
woogie to fool around with " but when I heard that I thought 'This is
something that I got to do.'" From that point on Freddie didn't waste
anytime. After the military he went to New York City and got a
firsthand account of the new jazz scene.
But a more significant outcome from New York, was the opportunity to record 3 albums on the Blue Note label, Music from The Connection, Shades of Redd, and a long
unreleased third session.
In addition it was during this time that Freddie played with many of the finest artists of the day including Art Blakey,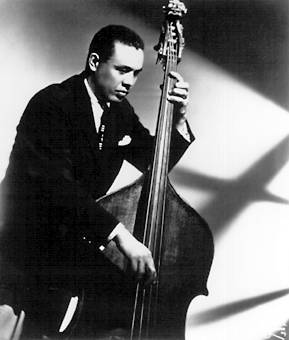 Lou Donaldson, and many others. It was Mingus who brought him to the west coast, which is where he wrote the San Francisco Suite recorded on Riverside.
His most recent work is Freddie Redd and his International Jazz Connection featuring original music composed by the pianist and featured in the world's first Jazz Video Album in
his own words.
Released in 1998 the album is dedicated to Representative John Conyers, the democrat from Michigan who authored House Resolution 57 designating jazz as America's national treasure.
While there are not many recordings of Freddie Redd and he may be hard to catch up with, he keeps busy performing and composing. And thanks to a Mosaic release of all the Blue Note recordings in 1989, a resurgence of interest in his work has occurred. Of course if you ask Freddie, he'll tell you he's been here, making music, all the time.