George V Johnson Jr
Executive Director
Washington DC Jazz Network
wdcjn@hotmail.com
240-691-3868
"THE GEORGE V JOHNSON JR SHOW"
Washington DC Jazz Network
THE GEORGE V JOHNSON JR SHOW
Blogtalk Radio - Call in 347-637-3988
Join us in the Chat Room
Showtime - 5:00 PM
Introductory - Music
5:05 - 5:20 - Jackie Harris
5:20 - 5:25 - Music
5:30 - 5:45 - Kidd Jordan
5:45 - 5:50 - Music
5:55 - 6:10 - Herlin Riley
6:10 - 6:17 - Music
6:17 - 6:32 - Kent Jordan
6:32 - 6:40 - Music
6:40 - 5:55 - Courtney Bryan
Louis "Satchmo" Armstrong Summer Jazz Camp Alumni All-Stars
SEPTEMBER 24TH, WASHINGTON, DC EVENT TO FEATURE JIMMY COBB'S "SO WHAT" BAND AND THE LOUIS "SATCHMO" ARMSTRONG SUMMER JAZZ CAMP ALUMNI ALL-STARS
Congressman John Conyers, Jr., Chairman of the House Judiciary Committee, and Dean of the Congressional Black Caucus, will host the 24th Annual Jazz Issue Forum and Concert during the Congressional Black Caucus Foundation's 39th Annual Legislative Conference, September 23-26, at the Walter E. Washington Convention Center, 801 Mount Vernon Place, NW, Washington, DC 20001
Read more...
The Jazz Issue Forum and Concert will take place on Thursday, September 24th, from 7:30 p.m. to 11:00 p.m. in Ballroom A of the Convention Center. The Jazz Concert will follow the Forum. Opening will be the
Louis "Satchmo" Armstrong Summer Jazz Camp Alumni All-Stars
Click here for more details here:
Louis Armstrong was the greatest of all Jazz musicians. Armstrong defined what it was to play Jazz. His amazing technical abilities, the joy and spontaneity, and amazingly quick, inventive musical mind still dominate Jazz to this day. Only Charlie Parker comes close to having as much influence on the history of Jazz as Louis Armstrong did. Like almost all early Jazz musicians, Louis was from New Orleans.
Read more...
JACKIE HARRIS,
Founder & Executive Director
The "Louis "Satchmo" Armstrong Summer Jazz Camp" was established by Jackie Harris along with then Mayor of New Orleans, Marc Morial in 1995. This jazz music education program has provided the opportunity to more than 1200 young music students between the ages of 10 to 20 years old to study jazz in its birthplace. Harris serves as Executive Director and Producer of the jazz camp and is the Executive Director of the New Orleans Arts and Cultural Host Committee, the presenter of the program.
Jackie Harris
New York Office:
1270 5th Ave. - Suite 8L, New York, NY 10029
212 987-0782
New Orleans Office:
124 Roselyn Park Place, New Orleans, LA 70131
504 392-2002
jackieharrisjazz@yahoo.com
jazzcamp@louisarmstrongjazzcamp.com
Edward Kidd Jordan,
Artistic Director and saxophonist.
Edward 'Kidd' Jordan is probably the single most under-documented jazz musician of his generation, a fact that is even more remarkable when you consider that he is also one of the busiest musicians in the world. The list of bands and artists Jordan has performed with reads like a 40-year Grammy program, from Ray Charles and Stevie Wonder to Aretha Franklin and the Supremes. And the list of jazz musicians he has performed with is even longer, from Ed Blackwell and Ellis Marsalis to Ornette Coleman, Cannonball Adderley and Cecil Taylor. Fortunately, this fact has not been lost on his appreciative European audiences, as Jordan was recognized by the French government with a knighthood for his contribution to the European performing arts.
In addition to his live performances, Kidd Jordan has long been associated with music education due to his position at Southern University at New Orleans, his work with children, documented by 60 Minutes, and his educational programs in Sierra Leone, Senegal and Mali.
A quiet genteel man, Kidd has always remained faithful to the sounds in his soul. The honesty in Kidd Jordan's playing is only matched by a tone that has rarely been heard in the history of his instrument. When audiences talk about Kidd Jordan, sometimes it is necessary to stop and think for a moment...are they referring to Kidd the prophet, the artist, or the teacher? Fortunately for all those that are priveleged to know and hear him, they are all the same, all one.

Kent Jordan, flutist
and Band Director.
The son of saxophonist Kidd Jordan and the older brother of trumpeter Marlon Jordan, Kent Jordan's early venture into commercialism on his first two Columbia albums almost ruined his reputation in the jazz world before he had a chance to mature. He had studied at the Eastman School of Music and New Orleans' Center for the Creative Arts, being inspired at the latter by Ellis Marsalis (with whom he recorded). Jordan played and recorded with the groups Jasmine and the Improvisational Arts Quartet before cutting his two Columbia albums (1984 and 1986). His third Columbia album (1988's Essence) is much stronger from a jazz standpoint and since that time, Jordan has toured with Elvin Jones and shown the jazz world that he can indeed play creative music
featuring drummer and ASCAP member
Herlin Riley,
artist in residence.
Herlin Riley was born on February 15, 1957, in New Orleans, Louisiana. Born into a musical family, Mr. Riley was always surrounded by music. He began playing the drums at age three. Mr. Riley studied trumpet throughout high school and two years of college. His attraction to the trumpet was short-lived, however, and he concentrated his efforts on the drums.
Mr. Riley was a member of Ahmad Jamal's group from 1984 through 1987. He has recorded with Marcus Roberts, Dr. John, Harry Connick, Jr., George Benson, Benny Wallace, Mark Whitfield, among others. His theater experience includes playing in One Mo' Time and Satchmo: America's Musical Legend.
In the spring of 1988, he joined Wynton Marsalis' touring and recording group, which he performed with through its disbanding in late 1994. He also performed on the first Lincoln Center Jazz Orchestra United States tour in the fall of 1992, performing the music of Duke Ellington.
Herlin Riley is a regularly featured musician at Jazz at Lincoln Center.
The other members of this group are
Courtney Bryan
, piano
Courtney Bryan, a native of New Orleans, Louisiana, is a prolific and eclectic composer, pianist, and arranger. Her overall ambition in life is the "creation of uninhibited beauty." Her compositions are wide-ranging, including Solo Works, Jazz Quartet, Jazz Orchestra, Symphonic Orchestra, and even collaborations of dancers, visual artists, writers, and actors. Courtney Bryan currently performs in and around New York with the Courtney Bryan Trio at venues like St. Nick's Pub, Cachaca, Nuyorican Poets Café, The Jazz Spot, Cecil's Jazz Club, A Gathering of Tribes Gallery, and Casa Frela Gallery.
Now attending Columbia University working on her PhD. Her introduction to Jazz came at the Louis Armstrong Summer Jazz Camp. She saw a flier on her high school bullentin board. Courtney is the assistant Music Composition Teacher. Courtney attended camp for 5 to 6 years.
Brian Quezerque, bass;
He is the son of New Orleans' own Wardell Quezerque. Wardell is the dea of Rhythm and Blues arrangers. Brian began playing the electric bass and going on the road with his father at a very early age. He was in our first Jazz Camp class, attended around 6 or 7 years and later became the first alumni to become a faculty member/instructor. He is a public/charter school music teacher and has been with Jazz Camp since it's inception.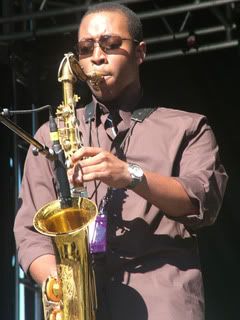 Calvin Johnson, tenor saxophone,
Calvin auditioned for camp oru first year of existence. He was asked to return the following year. He has been with us ever since, as a student and assistant instructor. He works with the woodwinds, is currently attending the University of New Orleans. He was a music major - three years of music education. Calvin recently changed is major to finance. He intends to pursue a career in both music and busiiness/finance.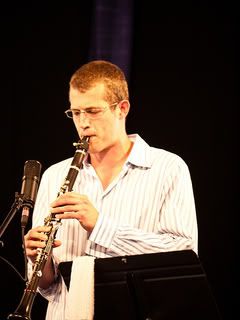 Gregory Agid
, clarinet;
Following in the footsteps of jazz master, Alvin Batiste, Gregory Agid is emerging as one of the most unique voices on clarinet. Born in 1987, Gregory spent his childhood living in Honolulu, Hawaii. Inspired by his uncle, Gregory began playing clarinet in the Hawaii school bands at age 11.
In the summer of 2000 Agid was introduced to jazz when he moved to its birthplace, New Orleans, Louisiana. Attending the Louis Armstrong Jazz Camp, he was brought up and mentored by jazz artists such as Alvin Batiste, Kidd Jordan, and Clyde Kerr. Under the guidance of Alvin Batiste, Gregory developed a deep love and passion towards music. In 2002, Gregory was accepted into New Orleans' world famous arts high school, the New Orleans Center for Creative Arts (NOCCA). Under the direction of Michael Pellera, Agid was given a chance to learn jazz with bright young musicians such as Troy Andrews, Christian Scott and Jonathan Batiste. In 2005, Gregory was awarded a grant to take lessons from clarinet virtuoso, Eddie Daniels. This experience solidified Gregory's desire to pursue a musical career. In addition to performance, Gregory has a deep passion for teaching. "It's my duty to repay what Mr. Bat did for me," says Agid.
Read more
Troy Andrews, trombone.
Troy Andrews (born January 2, 1986), also known as "Trombone Shorty," is a jazz-funk trombonist and trumpeter hailing from the Treme neighborhood of New Orleans, Louisiana. Styling himself as a latter day James Brown, Andrews combines the virtuosity and innovation of jazz with the grittiness and danceability of funk. He is the younger brother of James Andrews, the trumpeter known as the "Satchmo of the Ghetto," and Glen David Andrews, a noted trombonist. Both James Andrews and Glen Andrews were fixtures in the New Orleans brass band scene before striking out on their own. The fusion of jazz, marching band, gospel, funk, pop and (recently) hip-hop musical styles in the brass band repertoire also finds it way in Troy Andrews work. (Troy Andrews tends to emphasize the funk, hip-hop, jazz and rock elements.)
Troy Andrews received his nickname when he was seen playing a trombone (too big for his tiny frame) as a small child in a second line. Something of a prodigy, he studied at and graduated from the New Orleans Center for the Creative Arts (NOCCA) drawing the attention of luminaries like Wynton Marsalis. Before his 20th birthday, he released three albums: 12&Shorty with brother James Andrews, The End of the Beginning with an epoynmous quintet and Orleans and Claiborne with his band of the same name. He also played as part of Lenny Kravitz's band on tour in 2005 and 2006.
The Armstrong Summer Jazz Camp is one of many music education programs receiving support from
The ASCAP Foundation.
Overall, the CBC Jazz package offers a dynamic combination of information and straight ahead jazz from a collection of educators and superb artists that will remind everyone why jazz is truly a "national treasure."
The conference brings together diverse organizations and individuals to collectively discuss common issues and concerns. Its program includes more than 70 workshops, seminars and information forums on relevant topics that capture and portray the concerns of African Americans. Participants discuss the challenges facing underserved populations, including health care, economic success and failures, global and domestic security as well as highlight successes and provide critical information that will help to build strong communities, organizations and individual families. The conference also features the successful Emerging Leaders Empowerment Series, which is gaining widespread attention as it speaks to our future successors. In addition, the exhibit hall offers demonstrations and social events to complement the substantive content of the conference.
Special events include; Welcome Ceremony, National Town Hall Meeting, Exhibit Showcase, Career/Job Fair, Issue Forums and Brain Trusts, Authors Pavilion, Prayer Breakfast, Gospel Extravaganza, Jazz Forum & Concert, Fashion Show, CBCF Annual Awards Dinner and "The Renaissance*" (Formerly know as The Black Party).
For REGISTRATION and More Details Visit Our Web Site
http://www.alc2009.org/
or call (202) 263-2800.
ALC Hotline: (202) 263-5708 | ALC Fax Number: (202) 263-0847 | Send ALC e-mail to ALC09@cbcfinc.org
Ticket Info: MANY EVENTS ARE FREE TO THE PUBLIC!
Performers to be Announced
Website:
http://www.alc2009.org
Louis "Satchmo" Armstrong Summer Jazz Camp Alumni All-Stars
WALLCE RONEY
RALPH PETERSON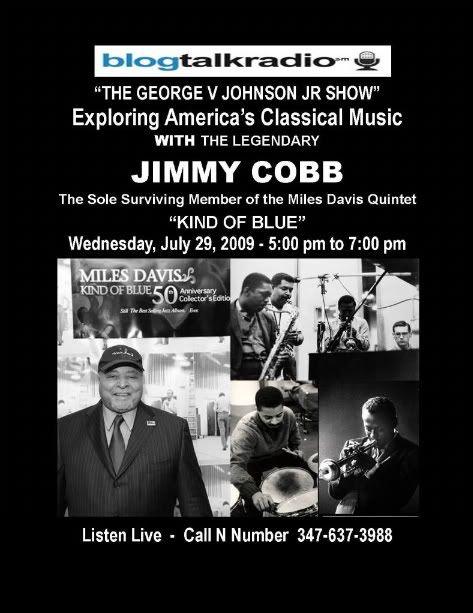 JIMMY COBB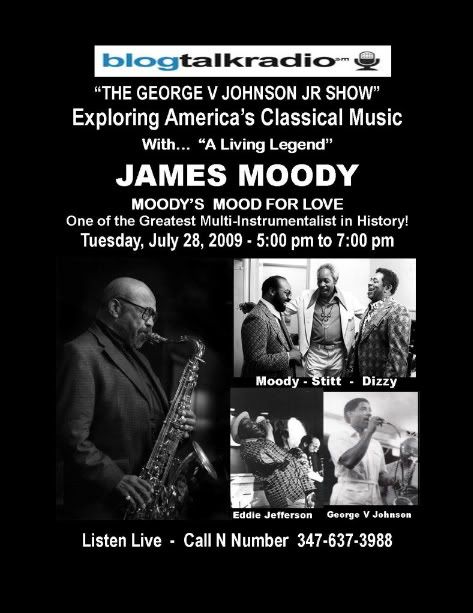 JAMES MOODY
"SWEET PAPA" LOU DONALDSON
HAROLD MABERN
NELSON HARRISON
Executive Director, Pittsburgh Jazz Network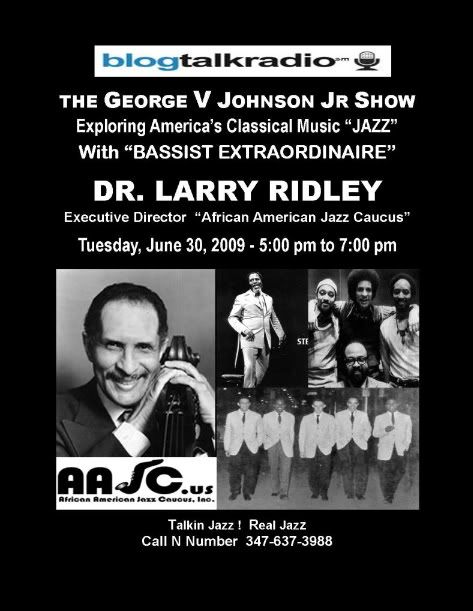 DR. LARRY H. RIDLEY
George V Johnson Jr
Executive Director
Washington DC Jazz Network
Available for concerts, workshops, lectures & clubs engagements
240-691-3868
"THE GEORGE V JOHNSON JR SHOW"

Dr. Larry H Ridley
Executive Director
African American Jazz Caucus
George V Johnson Jr "SO WHAT" with Dr. Larry Ridley & Jazz Lega...
George V Johnson Jr "My Little Suede Shoes" with Dr. Larry Riddley ...
TO REPOST THIS BLOG CUT & PASTE LINK or CLICK SHARE BUTTON BELOW & ATTACH TO YOUR EMAIL LIST.
THANKS,
WDCJN
PAUSE MUSIC PLAYER BELOW WHEN LISTENING TO RADIO SHOW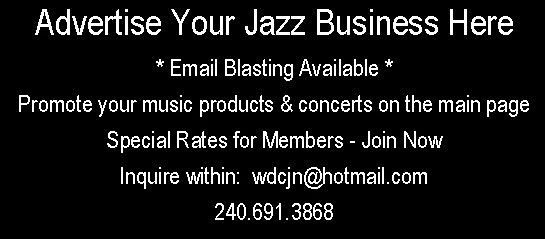 Find more music like this on WASHINGTON DC JAZZ NETWORK
CLICK SHARE BUTTON BELOW - THEN CLICK MORE OPTIONS & ATTACH TO YOUR EMAIL LIST.