While traveling to an engagement in Lincoln, Nebraska, McShann's bus hit and killed a chicken, prompting Parker to scream at the bus driver to "go back there and pick up that yardbird," intending to eat the fowl for dinner; from that point on,
Parker acquired the nickname "Yardbird", often shortened to "Bird".
'In the beginning was the word
and the word was Bird! The word that we heard'~~~Walter Bishop Jr
If Charlie Parker was a gun slinger there would a whole lot of dead copycats~~~Charles Mingus
Wikipedia
REMEMBER TO PAUSE MUSIC PLAYER WHEN WATCHING VIDEOS


The only child of Charles and Addie Parker, Charlie Parker was one of the most important and influential saxophonists and jazz players of the 1940's.




When Parker was still a child, his family moved to Kansas City, Missouri, where jazz, blues and gospel music were flourishing. His first contact with music came from school, where he played baritone horn with the school's band. When he was 15, he showed a great interest in music and a love for the alto saxophone. Soon, Parker was playing with local bands until 1935, when he left school to pursue a music career.
From 1935 to 1939, Parker worked in Kansas City with several local jazz and blues bands from which he developed his art. In 1939, Parker visited New York for the first time, and he stayed for nearly a year working as a professional musician and often participating in jam sessions. The New York atmosphere greatly influenced Parker's musical style.
In 1938, Parker joined the band of pianist Jay McShann, with whom he toured around Southwest Chicago and New York. A year later, Parker traveled to Chicago and was a regular performer at a club on 55th street. Parker soon moved to New York. He washed dishes at a local food place where he met guitarist Biddy Fleet, the man who taught him about instrumental harmony. Shortly afterwards, Parker returned to Kansas City to attend his father's funeral. Once there, he joined Harlan Leonard's Rockets and stayed for five months. In 1939, Yardbird rejoined McShann and was placed in charge of the reed section. Then, in 1940, Parker made his first recording with the McShann orchestra.

During the four years that Parker stayed with McShann's band, he got the opportunity to perform solo in several of their recordings, such as Hootie Blues, Sepian Bounce, and the 1941 hit Confessing the Blues. In 1942, while on tour with McShann,
Parker performed in jam sessions at Monroe's and Minton's Playhouse in Harlem.
By the end of 1942, he had a regular position with jazz great Earl "Fatha" Hines, and in 1943 he joined Billy Eckstine's popular band. It was during this period, while working with trumpet player and bandmate Dizzy Gillespie and, perhaps not coincidentally, doing no recording because of a musicians union strike, that Parker, Gillespie, and other musicians like pianist Bud Powell and drummer Max Roach began to carve out the signature features of the new jazz style that would come to be known as "bebop".
Though jazz had always been an improvisational style, he and his collaborators, who often met for informal jam sessions at Minton's, an after-hours club in Harlem, took the music's individualistic aspects to new levels, demanding technical excellence of each other that was not typical of even the best swing bands. Perhaps the most defining characteristic of the new style, and the innovation most associated with Charlie Parker, was the expansion of jazz harmony away from basic "triads" to more expanded forms using the upper extensions of chords. Among the best known of his recordings were his own composition "Koko" (the first bebop piece to garner widespread critical attention for its harmonic innovations),
A NIGHT IN TUNISIA[Dizzy Gillespie]

the Dizzy Gillespie piece "A Night in Tunisia" (featuring an alto saxophone break that exemplified Parker's amazing technique), as well as the ballads "Embraceable You" (whose melody was rendered beautifully unrecognizable by Parker's improvisations), "Parker's Mood", and "Lover Man". Though his work was generally held in high regard by jazz aficionados and fellow musicians, with the exception of some conservative bandleaders like Cab Calloway and Eddie Condon, his commercial appeal was limited by the complexity of his work which the average listener had a hard time following.
There he caught the attention of up-and-coming jazz artists like Dizzy Gillespie and Thelonious Monk. Later that year, Parker broke with McShann and joined
Earl Hines for eight months.
Billy Eckstine was the vocalist in the Earl Father Hines Big Band. Billy had several hits on the charts 'Stormy Monday Blues' and Jelly Jelly. He asked for a raise. Fatha said NO. Eckstine left the band and all the KILLER players followed him because all the ladies loved him and he had a big following. Thus pulling a MUTINY.In 1944, Eckstine formed his own big band and made it a fountainhead for young musicians who would reshape jazz by the end of the decade, including Dizzy Gillespie, Dexter Gordon, Miles Davis, Art Blakey, Lucky Thompson, Charlie Parker, John Malachi, Fats Navarro, Gene Ammons, Tadd Dameron, Gil Fuller were among the band's arrangers, and Sarah Vaughn, Pearl Bailey, Lena Horne were the singers.
Billy Eckstine band in Pittsburgh in 1944. Luck Thompson, Dizzy Gillespie, Charlie Parker and Billy Eckstine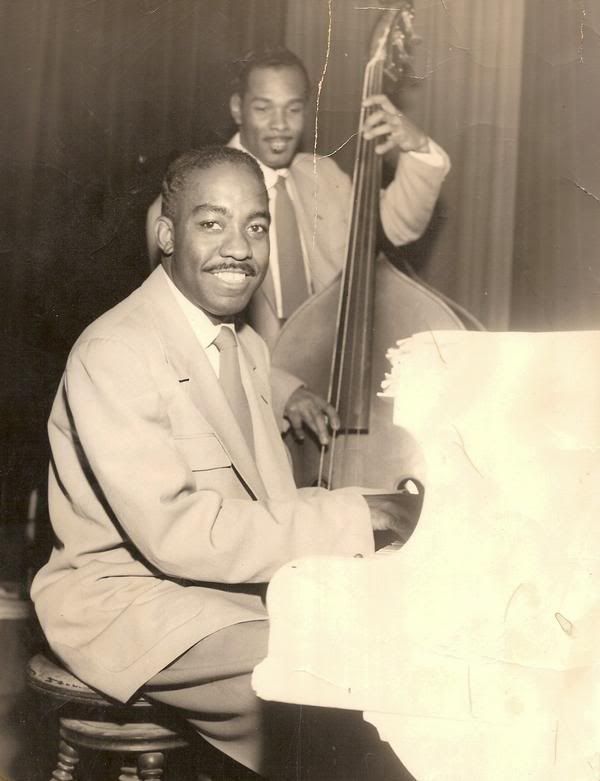 John Malachi - piano & Tommy Potter - bass
Years later he would give Sarah her name 'SASSY' Sarah Vaughn
Malachi says that he and Diz who were roommates on the road. In the middle of the night there would be a knock on the door.
It woudl be 'Bird' wanting to go over some new tunes and arrangements he had just written. They would be up most of the night playing tunes.
The year 1945 was extremely important for Parker. During that time he led his own group in New York and also worked with Gillespie in several ensembles. In December, Parker and Gillespie took their music to Hollywood on a six-week nightclub tour.
Parker continued to perform in Los Angeles until June 1946, when he suffered a nervous breakdown and was confined at a state hospital.
State Hospital
Also limiting his material success was his growing unreliability precipitated by an increasing dependence on heroin. In 1946, following a crackdown on the narcotics traffic in Los Angeles while he was in residence there, Parker had a psychotic break and was hospitalized in Camarillo State Hospital for six months. Though he would recover from this incident, recording the great piece "Relaxing at Camarillo"to commemorate the period and doing well-regarded work with a classically oriented string section (including a memorable performance of "Just Friends"), impresarios became increasingly reluctant to employ him, and he suffered the dubious distinction of being an unqualified living legend who had difficulty getting work for the bulk of his career and was often reduced to playing on a cheap plastic saxophone, albeit often to great effect. Upon his death in 1955 (which saw a coroner estimate his age at 60 instead of his actual age of 34), his body was interred in Kansas City's segregated Lincoln Cemetery over the objections of Chan Parker who had been living as the saxophonist's wife. His amazing influence over the jazz small groups of the 1940s and 1950s is perhaps best summed up by the title of a piece by Charles Mingus: "If Charlie Parker Was a Gunslinger, There'd Be a Whole Lot of Dead Copycats".
After his release in January 1947, Parker returned to New York and formed a quintet that performed some of his most famous tunes.
 
From 1947 to 1951, Parker worked in a number of nightclubs, radio studios, and other venues performing solo or with the accompaniment of other musicians. During this time, he visited Europe where he was cheered by devoted fans and did numerous recordings. March 5, 1955, was Parker's last public engagement at Birdland, a nightclub in New York that was named in his honor. He died a week later in a friend's apartment.

Charles "Yardbird" Parker was an amazing saxophonist who gained wide recognition for his brilliant solos and innovative improvisations. He was, without a doubt, one of the most influential and talented musicians in jazz history.
In New York, she became a friend and patron of many prominent jazz musicians, hosting jam sessions in her hotel suite. She is sometimes referred to as the "bebop baroness" or "jazz baroness" because of her patronage of Thelonious Monk and Charlie Parker among others. Following Parker's death in her Stanhope rooms in 1955, Koenigswarter was asked to leave by the hotel management; she re-located to the Bolivar Hotel at 230 Central Park West, a building commemorated in Thelonious Monk's 1956 tune "Ba-lue Bolivar Ba-lues-are".
She was introduced to Thelonious Monk by jazz pianist/composer Mary Lou Williams in Paris while attending the "Salon du Jazz 1954", and championed his work in the USA, writing the liner notes for his 1962 Columbia album Criss-Cross, and even took criminal responsibility when she and Monk were charged with marijuana possession by the police.
After Monk ended his public performances he retired to Nica's house in Weehawkien, New Jersey and died there in 1982... read more here Wikipedia
THE DEATH OF CHARLIE PARKER
Nica's notoriety was sealed by the mysterious death of Charles "Bird" Parker in her hotel apartment on March 12th 1955. When the press found out, the story made headlines.

Why was Parker in her apartment? Why wasn't the death reported immediately? Why was his body mislabeled and Parker's age given as nearly twice his actual age of 34 years, by Nica's own physician? Why wasn't an ambulance called? Is there any truth that he was killed by a blow from Nica's close friend Art Blakey? Did a thunderclap ring out around New York the second after he died?

Piecing together contemporaries' accounts, Bird's death certificate and Nica's own description, the wild rumours will be finally put to rest and the truth will be established...read more here


"MONK"
4 Month Run

Driving directions to
Charlie "Bird" Parker's Grave in Lincoln Cemetery
Blue Summit, Missouri,
just outside Kansas City, Missouri
Yes, that address is correct. Contrary to popular belief, Charles "Bird" Parker is not buried in Kansas City, Missouri. Lincoln Cemetery is actually located in Blue Summit, Missouri. If Bird actually asked his lady, Chan, ". . . not to let anyone bury me in Kansas City." his request was granted.

A MESSAGE FROM MAX ROACH


EUROPEAN CLASSICAL MUSIC
AND
AFRICAN AMERICAN CLASSICAL MUSIC
The only true and original Art Form of America..




33 West 60th Street New York, NY 10023-7905 (212) 258-9595

Take care of the music and the music will take care of you!
THE

Living Alto Player
Tribute to Charlie Parker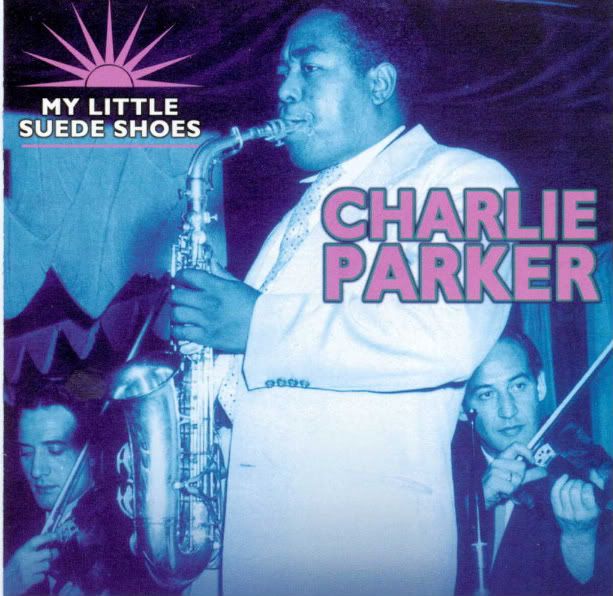 George V Johnson Sr.
My dad George Sr. played a lot of Bird around the house when I was growing up throughout the 50's and 60's. He had hundreds of jazz albums and thanks to my mentor the late great Eddie Jefferson after meeting him told me to start writing my own lyrics. I used to listen to Charlie Parker almost 24 hrs a day during the early 70's, and 80's. I had a Sony reel to reel tape recorder with sound on sound and I would record my voice singing along with Bird's solos for hours everyday until I perfected them. This went on for years before I would even sing them in public. I would analyze his music closely and try to climb into the solo by scatting along until I learned them note for note. I listened to every nuance, so I could capture his distinctive expressions, feelings, variation of color and tone. Bird gave me the greatest feeling and chills whenever I heard him play. I LOVE CHARLIE PARKER..
When I met John Malachi and started singing at the Pigfoot Jazz workshops it opened a who new world because he played with Charlie Parker, Diz and all the killer players. I started hanging with John 5 nights per week for many years. Whenever the main players came to the club John would call me up and let me sit in with them. I was one of John Malachi's adobted sons.
One of my best lessons John taught me was never to ask anyone can I sit in and don't take for granted because they're playing something you sing that you can just jump up and start singing. Since the day he explained it, I've never, ever asked anyone to let me sit in. He said if you're doing something musicians like they will invite you to the stage. I began writing lyrics to Charlie Parker's classic compositions around 1976. The first ones were probably Chi Chi, My Little Suede Shoes and then I couldn't stop. I was hooked on BIRD. I would wake up and go to bed listening to Charlie Parker almost everyday! I would walk around with earphones in my ear even at work listening to Bird. Again, I was hooked on Charlie Parker!!! The only other living singer who was singing and writing lyrics to his compositions was the master himself, the late great Eddie Jefferson. Read more here...
Original Lyrics to Charlie Parker's complete solo on
"The Art of Jazz Vocalese"
Founded and Created by
Johnson has written lyrics to over 30 Charlie Parker's classic compositions.
None recorded or heard in public except 'My Little Suede Shoes'
which was actually written by Calvin Massey
ANTHROPOLOGY
AUPRIVAVE - complete solo
AU LEU CHA - Miles
BARBADOS
BONGO BEEP
BONGO BOP
COOL BLUES
CONFIRMATION - complete solo
CHI CHI - complete solo
GROVIN HIGH - Dizzy
KC BLUES - solo
MOOSE THE MOOCHE
RELAXING AT CAMARILLO
SCRAPPLE FROM THE APPLE
I have to find my list. It's been so long since i looked at them
to be continued...

Johnson has written lyrics to over 40 Hank Mobley Compositions. Critics are already saying this is one of the most important and extensive projects to be presented to the public from the Art of Jazz Vocalese realm in many years.

EDUCATION
Attended:
The University of John Malachi - 15 yrs
The University of Eddie Jefferson - 5 yrs (The Art of Jazz Vocalese)
The University of Charlie Parker - 10 yrs (Lyrics to over 30 compositions)
The University of James Moody - 10 yrs (Performance)
The University of John Coltrane (Moments Notice)
The University of Pharoah Sanders - 2 yrs (Rejoice)
The University of Lou Donaldson - 30 yrs (Performance)
The University of Barry Harris - 4 yrs - Jazz Choir
The University of Larry Ridley - 10 yrs - performance
The University of Hank Mobley - 7 yrs (Lyrics to over 40 compositions)
Presently attending the University of Jackie McLean

Executive Director & Founder
WORKING TOGETHER WORKS!
CO-HOST


GVJ and Jimmy Heath @ Kennedy Center "Tribute to Ella"
I WALKED WITH GIANTS
Available in Bookstores
Exploring America's Classical Music "JAZZ