Pause music player when viewing videos

Martin Luther King Jr. Assassinated
At 6:01 p.m. on April 4, 1968, King was fatally shot at the Lorraine Motel.
American black civil rights leader Martin Luther King, Jr., was assassinated 40 years ago on 4 April 1968 in Memphis, Tennessee. His death touched off a wave of race riots across the United States.  Still today, some question the official investigation blaming the killing on one man.  
Forty years ago, Reverend Martin Luther King, Jr. traveled to Memphis, Tennessee, to lead a campaign for sanitation workers protesting their low wages and poor working conditions.  Still a young man at 39 years old, he had become the nation's chief civil rights leader, known for his non-violent marches and demonstrations.  It was the city where he would die.
Civil rights activist and history professor Michael Honey, author of a book about Reverend King's last days in Memphis, says the leader was trying to form a unprecedented coalition linking labor and civil rights.
"He called for a general strike in the city of Memphis by workers, domestic workers, teachers, students," Honey said. "And this would have been a tremendous high point in the civil rights movement.  Nothing like this had happened in any city. It would also be a tremendous high point in the labor movement."
The night before Reverend King was killed, he delivered his final sermon in which he seemed to foresee his fate. "Like anybody I would like to live a long life," King said. "Longevity has its place. But I am not concerned about that now.  I just want to do God's will. And he has allowed me to go up to the mountain, and I have looked over, and I have seen the Promised Land."
On 4 April 1968, as King was standing on the balcony of the Lorraine Motel,  he was shot in the neck.  He died a short time later at the hospital. 
Riots broke out that night in several major U.S. cities.  On 9 April, more than 50,000 people attended King's funeral in Atlanta, Georgia.
Memphis police later identified suspect.  James Earl Ray was arrested weeks later in London, with a fake passport.  Although Ray pled guilty and was convicted, years later he retracted his confession.   He said he had been only a minor player in a conspiracy.  But a lengthy U.S. Justice Department investigation concluded Ray had acted alone.
King's family rejected those findings.  Historian Michael Honey says 40 years later questions linger, especially in Memphis. "I think the issue for the black community was that this was never satisfactorily resolved and that there is widespread belief that it wasn't this one guy, and that other people in the state agencies may have been involved - or even the local police," he said.
The race riots that spread to more than 100 American cities lasted days, as mostly African-American neighborhoods burned.  Across the country, curfews were put in place.
The government mobilized some 50,000 soldiers to help quell the violence. 
Some 21,000 people were arrested.
Nearly 50 people died.  About 2,600 were injured, and millions of dollars in property was damaged or destroyed.
40 years after King's death, many African Americans still seek his dream of equality and opportunity, especially in urban communities where King had turned his attention during his final days
Dr. Martin Luther King, Jr. from 1964 Berlin Jazz Festival Program
Dr. Martin Luther King. Jr. reflects on legacy of jazz
God has wrought many things out of oppression. He has endowed his creatures with the capacity to create and from this capacity has flowed the sweet songs of sorrow and joy that have allowed man to cope with his environment and many different situations.
Jazz speaks for life. The Blues tell the story of life's difficulties, and if you think for moment, you will realize that they take the hardest realities of life and put them into music, only to come out with some new hope or sense of triumph.
Modern Jazz has continued in this tradition, singing the songs of a more complicated urban existence. When life itself offers no order and meaning, the musician creates an order and meaning from the sounds of the earth which flow through his instrument.
It is no wonder that so much of the search for identity among American Negroes was championed by Jazz musicians. Long before the modern essayists and scholars wrote of racial identity as a problem for a multiracial world, musicians were returning to their roots to affirm that which was stirring within their souls.
Much of the power of our Freedom Movement in the United States has come from the music. It has strengthened us with its sweet rhythms when courage began to fail. It has calmed us with its rich harmonies when spirits were down.
And now, Jazz is exported to the world. For in a particular struggle of the Negro in America, there is something akin to the universal struggle of modern man. Everybody has the Blues. Everybody longs for meaning. Everybody needs to clap hands and be happy. Everybody longs for faith. In music, especially this broad category called Jazz, there is a stepping stone towards all these.
"Alabama" is a song written by John Coltrane that appears on his album Live at Birdland. It was written in response to the 16th Street Baptist Church bombing, an attack by the Ku Klux Klan in Birmingham, Alabama that killed four girls.
The 16th Street Baptist Church in Birmingham, Alabama was bombed on Sunday, September 15, 1963. The explosion at the African-American church, which killed four girls, marked a turning point in the U.S. 1960s Civil Rights Movement and contributed to support for passage of the Civil Rights Act of 1964.
Although city leaders had reached a settlement in May with demonstrators and started to integrate public places, not everyone agreed with ending segregation. Bombings and other acts of violence followed the settlement, and the church had become an inviting target. The three-story 16th Street Baptist Church in Birmingham, Alabama had been a rallying point for civil rights activities through the spring of 1963, and was where the students who were arrested during the 1963 Birmingham campaign's Children's Crusade were trained. The church was used as a meeting-place for civil rights leaders such as Martin Luther King, Jr., Ralph David Abernathy and Fred Shuttlesworth. Tensions where escalated when the Southern Christian Leadership Conference (SCLC) and the Congress on Racial Equality (CORE) became involved in a campaign to register African Americans to vote in Birmingham. Still, the campaign was successful. The demonstrations led to an agreement in May between the city's African-American leaders and the Southern Christian Leadership Conference (SCLC) to integrate public facilities in the country.
In the early morning of Sunday, September 15, 1963, Bobby Frank Cherry, Thomas Blanton, Herman Frank Cash, and Robert Chambliss, members of United Klans of America, a Ku Klux Klan group, planted a box of dynamite with a time delay under the steps of the church, near the basement. At about 10:22 a.m., twenty-six children were walking into the basement assembly room to prepare for the sermon entitled "The Love That Forgives," when the bomb exploded. Four girls, Addie Mae Collins (aged 14), Denise McNair (aged 11), Carole Robertson (aged 14), and Cynthia Wesley (aged 14), were killed in the attack, and 22 additional people were injured...Read more..
Southern trees bear strange fruit,
Blood on the leaves and blood at the root,
Black body swinging in the Southern breeze,
Strange fruit hanging from the poplar trees.
Pastoral scene of the gallant South,
The bulging eyes and the twisted mouth,
Scent of magnolia sweet and fresh,
Then the sudden smell of burning flesh!
Here is fruit for the crows to pluck,
For the rain to gather, for the wind to suck,
For the sun to rot, for the tree to drop,
Here is a strange and bitter crop.
 






January 15 is the birthday of the Rev Dr. Martin Luther King Jr. and was declared a holiday in 1983. However, it was first observed in 1986 -- despite the president Ronald Regan saying it would cause a financial burden. In addition to Reagan, opposition to the bill was led by Senator Jesse Helms, who questioned whether King was important enough to receive such an honor. He was also critical of King's opposition to the Vietnam War, and accused King of having Communist connections. He suggested that the Rev. Martin Luther King Jr. was a communist dupe and refused, even decades after King's death, to honor the Nobel Peace Prize winner. He dismissed the civil rights movement as a cabal of communists and "moral degenerates.





A popular musician "Stevie Wonder" spurred a campaign for the holiday, and a petition gathered so many supporting signatures that it was declared the largest petition for an issue in U.S. history.



Martin Luther King Junior was born on January 15, 1929. No one knew the he would later in his life become one of the most well know African Americans in our country. Martin Luther King Junior was born in Atlanta, Georgia in the family home at, 501 Auburn Avenue.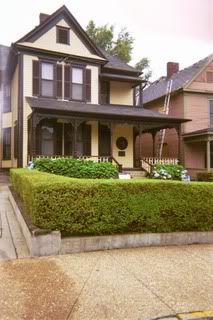 Martin Luther King, Jr. Childhood home on 501 Auburn Avenue.

Martin Luther King Junior (MLK Jr.) grew up in Atlanta, Georgia and in 1935 MLK Jr. began school at the all black Yonge Street Elementary School. As MLK Jr. was growing up he had a lot of questions. He was told at age 6 that two of his friends weren't allowed to play with him because of the differences in their race.
MLK Junior's family was religious, so every Sunday MLK Jr. would go to church and hear his father speaking. MLK Jr. studied and before he was 15 he had already started college. By the time he was 18 he had followed his father and had become a minister.
Dexter Avenue Baptist Church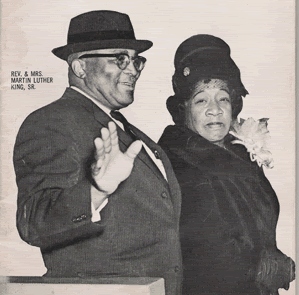 Mr. & Mrs. Martin L. King Sr
When MLK Jr. finished college he went to Boston to study some more. It was in Boston that he met his future wife, Coretta Scott. Martin Luther King Junior and Coretta Scott got married in June of 1953. A year after their marriage Martin Luther King Junior accepted a job as a minister at a church in Montgomery, Alabama. A year after that, he finished his research and became Dr. King.

It was on the familiar date December 1, 1955 that Dr. King decided to lead a protest, a protest for the rights of African Americans. Almost all of the Africans were not riding the local Montgomery buses. Dr. King led the boycott with pride; he made speeches and did everything he could to get fair rights. Dr. King was leading the boycott with peace, the people were angry, they wanted to fight. But Dr. King said, "We must meet hate with love."




Finally when the boycott ended on December 21, 1956, Rosa Parks and Martin Luther King Junior rode on the bus, and guess what, they sat in the very front seat! When the over 1 year of boycotting was over the new law was that it was against the law to make African Americans give up their seats to whites, and to keep the blacks in the back of the bus. The boycott was a success!
 MLK on April 3,  1966
THE MOUNTAIN TOP SPEECH
"…And then I got to Memphis. And some began to say the threats, or talk about the threats that were out..."
"What would happen to me from some of our sick white brothers...
The biggest march of all for freedom was the "March on Washington" on August, 28 1963. Dr. King gave his speech from the steps of the Lincoln Memorial.


REMEMBER TO PAUSE OR STOP MUSIC PLAYER AT BOTTOM OF PAGE WHEN WATCHING VIDEOS
The speech he recited was his famous "I have a Dream" speech, because of the very powerful speech Dr. King won the Nobel Peace Prize in 1964. But that wasn't Dr. King greatest prize. It was the laws that were passed, The Civil Rights Act o f1964 and The Voting Rights Act of 1965.
In 1968 Dr. King went to Tennessee to march there for equal pay for black and white garbage workers. He was standing on his motel balcony when he got shot by
James Earl Ray: The Man Who Killed Dr. Martin Luther King
Mark Gribben
The Assassination of Martin Luther King, Jr.: Was it a Conspiracy?
It's almost too perfect.
Read more...

Interview with James Earl Ray: Part One of Ten(1977)
James Earl Ray and MLK? Questions?
Martin Luther King III on his fathers assassination
Who Killed Martin Luther King? (documentary) PART 1
Dr. King's Funeral Service
Aretha Franklin Sings "Precious Lord" - Martin Luther King, Jr.'s F...
Kim Weston - Lift Every Voice & Sing (Black National Anthem)
CLICK FOR TRIAL FOOTAGE
A racist petty criminal looking to make a name for himself stalks a well-protected black civil rights leader and finally slays him, then manages to make an almost-clean getaway — but not before dropping the murder weapon (with prints) and his personal radio with his prison ID engraved on it.
When Dr. King died he left behind his four children and his wife. The marker on his gravestone says "I'm free at last."
Robert F. Kennedy Speech On The
Assassination Of Dr. Martin Luther King Jr.
April 4, 1968, Indianapolis, Indiana
Audio Of Speech
I have bad news for you, for all of our fellow citizens, and people who love peace all over the world, and that is that Martin Luther King was shot and killed tonight.
Martin Luther King dedicated his life to love and to justic for his fellow human beings, and he died because of that effort.
In this difficult day, in this difficult time for the United States, it is perhaps well to ask what kind of a nation we are and what direction we want to move in. For those of you who are black -- considering the evidence their evidently is that there were white people who were responsible -- you can be filled with bitterness, with hatred, and a desire for revenge. We can move in that direction as a country, in great polarization -- black people amongst black, white people amongst white, filled with hatred toward one another.
October 1978: First Lady Rosalynn Carter (from left), President Jimmy Carter, Coretta Scott King, Christine King Farris and U.N. Ambassador Andrew Young sing during a reception held at the White House to honor Friends of Martin Luther King Jr. Center for Social Change.
"Happy Birthday" is a 1981 single written, produced, and performed by Stevie Wonder for the Motown label. Wonder, a social activist, was one of the main figures in the campaign to have the birthday of Martin Luther King, Jr. become a national holiday, and created this single to make the cause known.
The song, one of many of Wonder's songs to feature the use of a keyboard synthesizer, features Wonder lamenting the fact that anyone would oppose the idea of a Dr. King holiday, where "peace is celebrated throughout the world" and singing to King in the chorus, "Happy birthday to you". The holiday, he proposes, would facilitate the realization of Dr. King's dreams of integration and "love and unity for all of God's children".
Wonder used the song to popularize the campaign, and continued his fight for the holiday, holding the Rally for Peace Press Conference in 1981. United States President Ronald Reagan approved the creation of the holiday, signing it into existence on November 2, 1983. The first official Martin Luther King, Jr. Day, held the third Monday in January of each year, was held on January 20, 1986, and was commemorated with a large-scale concert, where Stevie Wonder was the headlining performer.
Although the single failed to reach the Billboard Hot 100, it became one of Wonder's biggest hits in the UK, reaching No.2 in the charts in August 1981.
In some African-American circles, the chorus of the song is sung in addition to, or in place of, the traditional "Happy Birthday to You".
Stevie Wonder performed this song at the Closing Ceremonies of the 1996 Summer Olympics in Atlanta, Georgia, United States with all the other artists performing there to commemorate the Centennial of the Modern Olympics (1896–1996).
Wikipedia
In addition to Reagan, opposition to the bill was led by Senator Jesse Helms, who questioned whether King was important enough to receive such an honor. He was also critical of King's opposition to the Vietnam War, and accused King of having Communist connections.
On January 17, 2000, for the first time, Martin Luther King Day was officially observed in all 50 states. Prior to that New Hampshire and Arizona did not observe the day. Throughout the 1990s this was heavily criticized. After a 1992 proposition to recognize the holiday in Arizona did not pass, the NFL boycotted hosting Super Bowl XXVII at Sun Devil Stadium in Tempe.The hip-hop group Public Enemy recorded a song titled "By The Time I Get To Arizona", on their 1991 album, Apocalypse 91... The Enemy Strikes Black, in which they describe assassinating Arizona Governor Fife Symington III, for his opposition to the holiday.
On May 2, 2000, South Carolina governor Jim Hodges signed a bill to make Martin Luther King Jr.'s birthday an official state holiday. South Carolina is the last state to recognize the day as a paid holiday for all state employees. Prior to this, employees could choose between celebrating Martin Luther King Day or one of three confederate holidays.
While all states now observe the holiday, some did not name the day after King.
In Utah the holiday was known as "Human Rights Day", until the year 2000 when the Utah State Legislature voted to change the name of the holiday from Human Rights Day to Martin Luther King, Jr. Day. In that same year Governor Michael O. Leavitt signed the bill officially naming the holiday "Martin Luther King, Jr. Day."
In Virginia, the holiday was added on to Lee-Jackson Day, a day meant to honor Robert E. Lee and Stonewall Jackson, and became Lee-Jackson-King Day. The incongruous nature of the holiday, which simultaneously celebrated the lives of Confederate Army generals and a civil rights icon, did not escape the notice of Virginia lawmakers. In 2000, a Martin Luther King Day was established in Virginia.
In Arizona and New Hampshire, Martin Luther King Day is known as Martin Luther King, Jr. Civil Rights Day.
Although the day is a federal holiday and a state holiday in all states, it is usually not observed by small private companies except for banks. Some large corporations close their operations (more so than on Veterans Day or Columbus Day, which are also federal holidays, but less so than on holidays such as Memorial Day or Labor Day when virtually all corporations are closed), but small shops, restaurants, and grocery stores tend to remain open. Overall, in 2007, 33% of employers gave employees the day off, while 33% of large employers over 1,000 and 32% of smaller employers gave time off. The observance is most popular amongst nonprofit organizations and least popular among factories and manufacturers.The reasons for this have varied, ranging from the recent addition of the holiday (each year more businesses are closed than the year before, though often those that do choose to close "make it up" by no longer closing for Presidents Day) to its occurrence just two weeks after the week between Christmas and New Year's Day, when many businesses are closed for part of or sometimes all of the week. Additionally, many schools and places of higher education are closed for classes; others remain open but may hold seminars or celebrations of Dr. King's message.
The national Martin Luther King Day of Service was started by former Pennsylvania U.S. Senator Harris Wofford and Atlanta Congressman John Lewis, who co-authored the King Holiday and Service Act. The federal legislation challenges Americans to transform the King Holiday into a day of citizen action through volunteer service in honor of Dr. King. The federal legislation was signed into law by President Bill Clinton on August 23, 1994. Since 1996, the annual Greater Philadelphia King Day of Service has been the largest event in the nation honoring Dr. King.
The United States Code states that MLK day shall be observed on the third Monday in January. In 2008, Martin Luther King Day will fall on January 21.