Greetings Folks,
The play, I'm producing, Domestic Crusaders which will be having it's STAGE READING/FUNDRAISER at the Nuyorcan tomorrow, Sunday, has just sold out. It appears that standing room only will possibly be available. This is just the beginning of what is going to be an exciting run that's is going to take place for five weeks at the Nuyorican in September, so look out for this show and even purchase your tickets in advance, before the entire run sells out. One never knows, but the word is starting to travel all over the country and part of the globe, that Domestic Crusaders is a must see play!!!
Peace,
ROME NEAL
COME JOIN US ON APRIL 19 FOR A SNEAK PREVIEW OF.......
"The Domestic Crusaders", The First Major Muslim American Play For the Post 9-11 World (www.domesticcrusaders.com)
About the play:
The Domestic Crusaders focuses on one day in the life of a modern Muslim Pakistani-American family of six eclectic, unique members, spanning three generations, who convene at the family house to celebrate the twenty-first birthday of the youngest child. With a background of 9-11 and the scapegoating of Muslim Americans, the tensions and sparks fly among the three generations, culminating in an intense family battle as each "crusaders" struggles to assert and impose their respective voices and opinions, while still attempting to maintain and understand that unifying thread that makes them part of the same family.
STAGED READING AND FUNDRAISER – April 19, 2009
WHAT: Staged reading of the Domestic Crusaders. The Domestic Crusaders makes its New York premiere at the world famous Nuyorican in Fall 2009. Opening 9/11/09 to 10/19/09. Come see the first entire half [more than 75 minutes of entertainment] as an intimate reading with professional actors.
Q and A with the Playwright Wajahat Ali, Producer MacArthur Genius, Pulitzer nominated author Ishmael Reed and Rome Neal, and Director Carla Blank afterward
$10 entrance admission is a donation towards staging the play (All donations are tax deductible).
WHEN: April 19, Sunday, 6 pm - 8 pm
WHERE: Nuyorican Poets Café, www.nuyorican.org, 236 E 3rd St, New York, NY 10009, 212-465-3167
RSVP: dcinny2009@gmail.com
What people have been saying about the play:
"The Domestic Crusaders is exactly the sort of theater we need today. The gulf that separates cultures must be bridged and art is one of our best hopes. I'll be supporting this all the way!"
- Academy Award screenwriter and actress, Emma Thompson
"The play is to Muslim American theater what A Raisin in the Sun is to African American theater."
- Pulitzer Prize nominated author Mitch Berman
"Domestic Crusaders" should be ranked with family dramas written by Tennessee Williams and Eugene O'Neil.
-MacArthur Genius, Pulitzer Prize nominated author Ishmael Reed
"This play could change the history of American theater, and of America itself."
- Lawrence Swaim, In Focus Magazine
"The Domestic Crusaders" is what all high art aspires to do — spotlight complicated truths (and contradictions) without offering easy answers."
- San Francisco Chronicle, Jon Curiel
"The only play of its kind, "Domestic Crusaders" offers a fresh take on the family drama while demystifying that tense terrain between 'us' and 'them.' A true theatrical breakthrough."
-Newsweek's Lorraine Ali
****************************************************************
VINCINO'S RESTAURANT
959 Sligo Avenue Silver Spring, Maryland - (301)588-3372
MONDAY, MAY 4, 2009 - 7:00 PM to 9:30 PM
The Return of...
The GEORGE V. JOHNSON, JR. QUINTET**
This will be Johnson's first Washington DC Nightclub appearance in 3 years. For tickets call (202)726-6515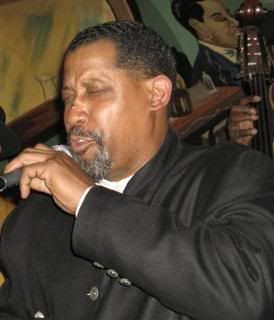 George V. Johnson, Jr. (Vocals), Fred Foss (sax), Janelle Gil (piano), Herm Burney (bass), Lenny Robinson (Drums)
Imagine listening to a seasoned jazz musician rip into a bebop solo so sizzling and smooth it makes your senses tingle. Close your eyes and play along. Try and picture the sweat bouncing off the performer like the notes that leap through the air. See if you can hear the mesmerizing melodies go up and down, bringing you through joy and sadness, taking your emotions on a sensory experience unlike any other. Now picture that musician and his beloved instrument: His voice. That's the art of vocalese, and that's what native D.C. son George V Johnson Jr. has been doing for over 40 years. Working as a performer, a D.C. Metrobus driver and a New Jersey train conductor at different times throughout his life, Johnson's latest work has taken the form of pedagogy. He has become a teacher and mentor to both aspiring and established vocalists from around the area, and most recently he has lent his years of experience and talent to AU, leading the AU jazz vocal ensemble. ~~By Ben Lozovsky
****************************************************************
Blues Alley on Wednesday, April 29th. The
LARRY BROWN
Quintet with guest vocalist Bonnie Harris!
All are invited to Blues Alley on Wednesday night, April 29th to see The
LARRY BROWN
Quintet perform live. This will be their sixteenth appearance at Blues Alley, but the first in DC since winning their second Wammie last month for "Best Jazz Group" for 2008. Shows are at 8:00 and 10:00. The Quintet features Larry Brown (piano), Kent Miller (bass), Greg Holloway (drums), Kyle Funn (trumpet) and Peter Fraize (tenor sax). Also appearing with the band will be jazz vocalist Bonnie Harris and DC's own Rob Holmes (tenor sax).
A post be-bop jazz pianist, Larry lists his major influences as Bill Evans, Wynton Kelly, and Miles Davis. Larry records exclusively on Lush Life Records and his recordings are produced by Jerry O'Sullivan.
See Blog for more details:
Visit the official web site for the
LARRY BROWN QUINTET
******************************************************************
NEPTIX - Click to purchase tickets
Now on Sale