Click link below - listen to the historic 2 hr interview with The Legendary Gerald Wilson, George V Johnson Jr & Co-host Dr. Larry Ridley
Born in Shelby Mississippi in 1918 Gerald Wilson knew early on that he was going to be a musician. While living in Detroit he studied harmony and orchestration at Cass Tech in addition to working on his trumpet chops. ...
GERALD WILSON
Official Site
Born: September 4, 1918 - Back in 1939, Gerald Wilson joined the
Jimmie Lunceford Orchestra as a trumpet soloist and an arranger. 66 years later, Wilson is still very active, having long been considered one of the top arrangers, composers and big band leaders in the history of jazz. 86 as of this writing, he has lost none of his enthusiasm, skills or creativity, and still manages to sound quite modern.
Throughout his career, Gerald Wilson has received incredible acclaim, including winning the Downbeat International Critics Poll both as a composer/arranger and for his big band,
and winning the Paul Robeson Award, the NEA American Jazz Masters Fellowship, and a pair of American Jazz Awards. He has been elected to the Mississippi Jazz Hall of Fame, has had his life's work archived by the Library of Congress

and has earned six Grammy® nominations. But his real legacy is his music itself.
Gerald Wilson 'Miles Stone' on Frankly Jazz
Gerald Wilson and the making of 'Monterey Moods'
Gerald Wilson - Viva Tirado
Gerald Wilson - California Soul 7" 45 DJ K-Tel
Gerald Wilson - A Jazz Composer Arranger Sui Generis
To follow up on his critically acclaimed Mack Avenue debut, "New York, New Sound" (one of the Grammy nods), Wilson returned to Manhattan to lead an all-star big band through the ten tunes featured on "In My Time." The centerpieces of the project are the three selections--"Dorian." "Ray's Vision at the U," and "Blues For Manhattan"--that comprise the suite titled "The Diminished Triangle." " 'The Diminished Triangle' is the study of diminished chords," explains Wilson. "We have three diminished chords which add up to 12 different notes, and all musicians study the 12 tones. By using the diminished triangle many different ways, one can get a lot of different harmonic sounds. This suite gave me the opportunity to use a lot of eight-part harmony."
Commissioned by
The California Institute for the Preservation of Jazz
, and supported by a generous grant from the

National Endowment for the Arts, and marshaled by Cal State Long Beach educator Ray Briggs (for whom "Ray's Vision at the U" was named), "The Diminished Triangle" was debuted at Cal State L.A. on April 2, 2005.
Purchase
CD "IN MY TIME"
Every selection on
"In My Time"
is filled with a sense of exhilaration, dense and distinctive harmonies, and stirring solos. "Sax Chase," which in the 1980s was known as "Triple Chase," showcases Wilson's talents as an arranger, and features stirring saxophone solos from Ron Blake, Steve Wilson, Kamasi Washington, Gary Smulyan and Dustin Cicero. On "Blues For Manhattan" Wilson explained that he utilized five-part harmony for the sax section, so that each player is performing a harmony of the melodic line without any doubling. One of the highlights on "Lomelin," written for the great bullfighter Antonio Lomelin, is a dramatic trumpet solo from Jon Faddis. As evidence that Wilson's music is inherently connected to his life, "AEN" is named after his son, guitarist Anthony Wilson, and for his two grandsons, Eric and Nicholas, while "Musette," which includes a beautiful guitar solo from Russell Malone, was named after a poodle given to Gerald's three daughters. Also on this memorable project are Wilson's "Jeri" (named after his first-born daughter) and reworkings of Miles Davis' "So What" and Cole Porter's "Love For Sale." "I originally wrote an arrangement for 'Love For Sale' in 1953, using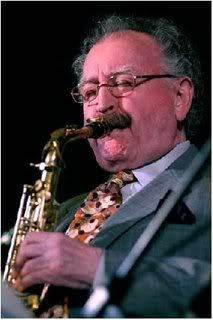 Jerry Dodgion on lead alto. 52 years later, I got to use him again on the new version." Among the other soloists heard from along the way are trumpeters Jimmy Owens, Sean Jones and Jeremy Pelt, trombonist Luis Bonilla and pianist Renee Rosnes.
"The musicians in the band were really into the music and they are brilliant players," enthused Wilson. "They are at home everywhere they are, in every bar of music." The same can be said for the veteran bandleader.
Born in Shelby, Mississippi in 1918, Gerald Wilson knew early on that he was going to be a musician. While living in Detroit, he studied harmony and orchestration at Cass Tech in addition to working on his trumpet chops. In 1939, when he got the call to join
Jimmie Lunceford's orchestra, he was ready. "When I got a chance to join them," remembers Wilson, "I was thrilled to death.
The Jimmie Lunceford band was at the top of the heap at the time and they could outdraw everyone. They had such creative arrangements by Edwin Wilcox, Sy Oliver and Eddie Durham, and their musicians were very good. I made my first arrangements for them, "Yard Dog Mazurka" and "Hi Spook."
After a few years gaining recognition for his work with Lunceford and after serving a stint with the U.S. Navy, Wilson settled in Los Angeles.
He wrote and played trumpet for Benny Carter and Les Hite and led his own big band during 1944-47, making his first recordings as a leader.
Despite the success of the first
Gerald Wilson Orchestra,
he decided to break up the band in 1947 and further his musical studies. Wilson knew that there would be time for other big bands, and he has always wanted to learn as much as possible about harmony and orchestration, and developing his own writing style.
In 1948 Wilson joined the Count Basie Orchestra for two years,
and in 1950 he joined the Dizzy Gillespie big band as a trumpet player and arranger, where his contributions included his composition "Couldn't Love, Couldn't Cry." In the 1950s he became very active as an arranger and orchestrator not only in jazz, but also for popular singers of the time and in commercial music.
Among those he wrote for were Duke Ellington (including a classic arrangement of "Perdido" in 1951),
The Great "Little Jimmy Scott"
Billy Holiday
Sarah Vaughan,
Ray Charles,
Julie London,
Bobby Darin,
Carmen McRae,
Ella Fitzgerald,
Nancy Wilson and countless others.
He also wrote symphonic compositions that were performed by the Los Angeles Philharmonic under the direction of Zubin Mehta, including the extended work "5/21/72,"
and was the conductor and music director for the ABC variety program The Redd Foxx Show. "I did so much commercial work for so many years. I can't even count the amount of arrangements that I wrote. It's just in the last few years that I stopped doing commercial work altogether and have stuck completely to jazz. It takes a lifetime to be a jazz musician."
Gerald Wilson, who eventually gave up playing trumpet to concentrate on his writing, became particularly famous in the jazz world through his series of classic big band recordings for the Pacific Jazz label in the 1960s including "You Better Believe It," "Moment Of Truth," "Portraits," "On Stage" and "The Golden Sword." His catchy "Viva Tirado" became a top 40 pop hit in 1970 when recorded by El Chicano. He also hosted a daily jazz program on Los Angeles' KBCA in the early 1970s and taught jazz history for 13 years at California State University Northridge, and for six years at Cal State L.A., and now still teaches at UCLA. His 1980s recordings for the Discovery label further solidified Wilson's musical legacy, as have his regular appearances with his longtime L.A.-based orchestra. "My band in Los Angeles has been together for decades and I have some players who have been with me for more than 15 years. We always enjoy performing around town at concerts and festivals."
Summing up his thoughts on his latest project, Gerald Wilson says, "I've listened to 'In My Time' several times and, honestly, this might very well be the best record I've ever made. The intonation of the musicians is so good, the musicians interpreted the music so well, and they are great young players who are looking ahead, moving the banner of jazz into the future." Young as some of the musicians may be, none have a more youthful spirit than the ageless Gerald Wilson.
Press Quotes
"Veteran L.A.-based big-band leader Gerald Wilson, who first played Monterey in 1963, has been commissioned to write special pieces for the festival. This year's theme-and-variations model, "Monterey Moods," is similar to 1997's "Theme for Monterey." In this case, Wilson comes from different arrangemental/compositional angles on a simple 10-measure theme, with accents designed to accommodate the mantra "Mon-ter-ey." Needless to say, boosterist spirit was in the air, and more than usual, at this 50th bash." -- Josef Woodard, JazzTimes
"The legacy of Gerald Wilson and the Monterey Jazz Festival are closely linked. From his first visits to Monterey in the early 1960's playing and hanging out with Diz and Monk to his commission pieces for our 25th, 40th and now 50th anniversary, Gerald's spirit has infused the festival with his unique brand of artistry, humanity and pure, swingin' fun. Gerald Wilson and the Monterey Jazz Festival have helped create a vibrant and long-lasting west coast musical spirit. It's a great partnership and we are honored to be associated with him!" --Tim Jackson, General Manager, Monterey Jazz Festival
"Playing with Gerald Wilson is always such a joy and an inspiration, as is hearing the results. … you'll also discover Gerald Wilson the person ... intelligent, wise, full of joy and classy, just like his compositions." --Jon Faddis
"Gerald Wilson is one of the greatest composers and arrangers living today. Monterey Moods, is another example of his genius." --Kenny Burrell
"Gerald Wilson's longevity with his creativity alone gives testimony to his value as an international treasure." --Hubert Laws
THE ART OF JAZZ VOCALESE

GEORGE V JOHNSON JR
Executive Director & Founder
Washington DC Jazz Network
wdcjn@hotmail.com


ADVERTISEMENT AVAILABLE
PROMOTE YOUR MUSIC PRODUCTS, VENUES AND CONCERTS HERE
SPECIAL RATES FOR MEMBERS - JOIN TODAY!
LET THE WDCJN CREATE YOUR BLOG & EMAIL BLAST TO THOUSANDS
CALL FOR INQUIRIES 240.694.7560