Samuel "Sam" Cook (January 22, 1931 – December 11, 1964) was an American gospel, R&B, soul, and pop singer, songwriter, and entrepreneur. He is considered to be one of the pioneers and founders of soul music. Stay awhile a listen to Sam Cooke's music...






Cooke had twenty-nine top-40 hits in the U.S. between 1957 and 1964. Major hits like "You Send Me", "A Change Is Gonna Come", "Chain Gang", "Wonderful World", and "Bring It on Home to Me" are some of his most popular songs






REMEMBER TO TURN OFF MUSIC PLAYER WHEN WATCHING VIDEOS






Cooke was also among the first modern black performers and composers to attend to the business side of his musical career. He founded both a record label and a publishing company as an extension of his careers as a singer and composer.



He also took an active part in the American Civil Rights Movement.






On December 11, 1964, Cooke was shot to death by the manager of the


Hacienda Motel in Los Angeles, California at the age of 33. At the time, the courts ruled that Cooke was drunk and distressed, and the manager killed Cooke in what was later ruled a justifiable homicide. Since that time, the circumstances of his death have been widely questioned.

Cooke was born in Clarksdale, Mississippi. He later added an "e" onto the end of his name, though the reason for this is disputed. He was one of seven children of Annie Mae and the Reverend Charles Cook, a Baptist minister. The family moved to Chicago in 1933.




Cooke began his career singing gospel with his siblings in a group called The Singing Children.




He first became known as lead singer with the Highway QC's as a teenager. In 1950, Cooke replaced gospel tenor R.H. Harris as lead singer of the landmark gospel group The Soul Stirrers. Under Cooke's leadership, the group signed with Specialty Records and recorded the hits "Peace in the Valley", "How Far Am I From Canaan?", "Jesus Paid the Debt" and "One More River".
[edit] Crossover pop success


His first pop single, "Lovable" (1956), was released under the alias "Dale Cooke" in order not to alienate his gospel fan base (he sang with the Soul Stirrers until 1957); there was a considerable stigma against gospel singers performing secular music. However, it fooled no one- Cooke's unique and distinctive vocals were easily recognized.




Art Rupe, head of Specialty Records
, the label of the Soul Stirrers, gave his blessing for Cooke to record secular music under his real name, but he was unhappy about the type of music Cooke and producer
Bumps Blackwell were making.
Rupe expected Cooke's secular music to be similar to that of another Specialty Records artist, Little Richard. When Rupe walked in on a recording session and heard Cooke covering Gershwin, he was quite upset. After an argument between Rupe and Blackwell, Cooke and Blackwell left the label.

In 1957, Cooke appeared on ABC's The Guy Mitchell Show. That same year, he signed with Keen Records. His first release was "You Send Me", the B-side of his first Keen single (the A-side was a reworking of George Gershwin's "Summertime") which spent six weeks at #1 on the Billboard R&B chart. The song also had mainstream success, spending three weeks at #1 on the Billboard pop



Sam Cooke in studio, 1963



In 1961, Cooke started his own record label, SAR Records, with J.W. Alexander and his manager,




Roy Crain. The label soon included The Simms Twins,




The Valentinos,



Bobby Womack,




Johnnie Taylor





Cooke then created a publishing imprint and management firm, then left Keen to sign with RCA Victor. One of his first RCA singles was the hit "Chain Gang". It reached #2 on the Billboard pop chart and was followed by more hits, including "Sad Mood",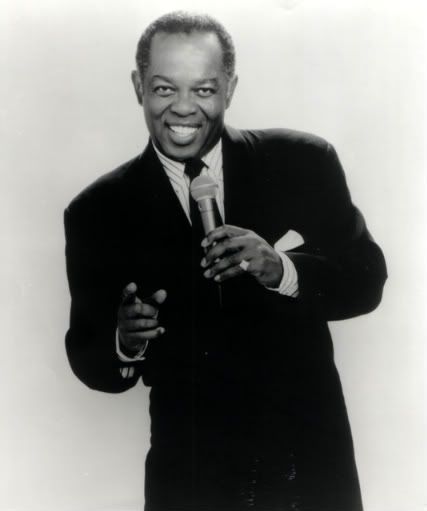 "Bring it on Home to Me" (with Lou Rawls on backing vocals), "Another Saturday Night" and "Twistin' the Night Away".



Before producing his good friend Cassius Clay's (Muhammad Ali) recording entitled "I Am The Greatest", he and Malcolm X attended




Clay's heavy-weight bout with Sonny Liston in Miami.

Like most R&B artists of his time, Cooke focused on singles; in all he had twenty-nine top-40 hits on the pop charts, and more on the R&B charts. In spite of this, he released a well received blues-inflected LP in 1963, Night Beat, and his most critically acclaimed studio album Ain't That Good News, which featured five singles, in 1964.


June of 1964 brought Sam back to the Copa where he had unequivocal success.
Shortly thereafter, in 'September, he screen-tested for "The Cincinnati Kid" as well as being the guest star on the premiere episode of Shindig.
He then committed to headline at the Deauville Hotel in Miami for Christmas.
Sam died on December 11, 1964. "At the Mount Sinaï Baptist Church in Los Angeles, a crowd of 5,000 persons, some of whom arrived five hours before the scheduled last rites, overran facilities designed to accommodate 1,500.

n an emotion packed atmosphere, super charged by the singing of Lou Rawls,




Bobby Blue Bland and Arthur Lee Simpkins, women fainted, tears fan down men's cheeks and onlookers shouted.




Gospel singer Bessy Griffin, who was to appear on the funeral program, became so grief stricken she had to be carried off.




Ray Charles stepped in from the audience to sing and play 'Angels Keep Watching Over Me'."




For 14 years Sam sanctified and glorified his gospel heritage and forged new paths by being the first black artist to establish his own record company (SAR) where he helped such gospel oriented artists as the Womack Brothers (Bobby, Cecil, Friendly Jr, Curtis and Harry) who later became the Valentinos, R.H. Harris & His Gospel Paraders, The Simms Twins, Johnnie Morisette, Johnnie Taylor and Billy Pres ton, as well as giving continued expression to the "Soul Stirrers".



Even today, same 40 odd years after he began his writing and recording career, his music endures with cover recordings by artists from all genre of the recording industry such as Aretha Franklin, Otis Redding, Wilson Pickett, Jackie Wilson, Bobby Womack, The Supremes, Hermans Hermits, The Animals, Paul McCartney, The Rolling Stones, Rod Stewart, Ray Charles, The Spinners, Nina Simone, Jim Croce, Art Garfunkel, The Pointer Sisters, Salomon Burke, Luther Vandross, The Manhattans, John Lennon, Bryan Adams, Dan Seals, Jimmy Buffett, James Taylor, Michael Bolton and Tina Turner.

His legacy continues with each new generation:

* In 1986, Sam Cooke was one of the first ten inductees into the newly founded Rock 'N' Roll Hall Of Fame.
* In 1987, Sam Cooke was inducted into the Songwriters Hall Of Fame.
* In 1993, Sam Cooke received the Chairman's Award from The Apollo Theatre Foundation.
* In 1999, Sam Cooke received the first Pioneer Award from the Rhythm and Blues Foundation; and
* In 1999, Sam Cooke received the NARAS Grammy Lifetime Achievement Award


Cooke died at the age of thirty-three on December 11, 1964, at the Hacienda Motel at 9137 South Figueroa Street in Los Angeles, California, which has since been torn down. Bertha Franklin, manager of the motel, told police that she shot and killed Cooke in self-defense because he had threatened her. Police found Cooke's body in Franklin's apartment-office, clad only in a sports jacket and shoes, but no shirt, pants or underwear.



The shooting was ultimately ruled a justifiable homicide. Cooke was interred in the Forest Lawn Memorial Park Cemetery in Glendale, California.

Some posthumous releases followed, many of which became hits, including "A Change Is Gonna Come", an early protest song that is generally regarded as his greatest composition.



After Cooke's death, his widow, Barbara, married Bobby Womack. Cooke's daughter, Linda, later married Bobby's brother, Cecil.


Controversy



The details of the case involving Cooke's death are still in dispute. The official police record states that Cooke was shot dead by Bertha Franklin, the manager of the Hacienda Motel, where Cooke had checked in earlier that evening. Franklin claimed that Cooke had broken into the manager's office-apartment in a rage, wearing nothing but a shoe and a sports coat demanding to know the whereabouts of a woman who had accompanied him to the hotel. Franklin said that the woman was not in the office and that she told Cooke this, but the enraged Cooke did not believe her and violently grabbed her, demanding again to know the woman's whereabouts. According to Franklin, she grappled with Cooke, the two of them fell to the floor, and she then got up and ran to retrieve her gun. She said that she then fired at Cooke in self-defense, because she feared for her life. Cooke was struck once in the torso, and according to Franklin, he exclaimed, "Lady, you shot me," before mounting a last charge at her. She said that she beat him over his head with a broomstick before he finally fell, mortally wounded by the gunshot.

According to Franklin and to the motel's owner, Evelyn Carr, they had been on the telephone together at the time of the incident. Thus, Carr claimed to have overheard Cooke's intrusion and the ensuing conflict and gunshots. Carr called the police to request that they go to the motel, informing them that she believed a shooting had occurred.

A coroner's inquest was convened to investigate the incident. The woman who had accompanied Cooke to the motel was identified as Elisa Boyer, who had also called the police that night shortly before Carr did. Boyer had called the police from a telephone booth near the motel, telling them she had just escaped being kidnapped.

Boyer told the police that she had first met Cooke earlier that night and had spent the evening in his company. She claimed that after they left a local nightclub together, she had repeatedly requested that he take her home, but he instead took her against her will to the Hacienda Motel. She claimed that once in one of the motel's rooms, Cooke physically forced her onto the bed and that she was certain he was going to rape her. According to Boyer, when Cooke stepped into the bathroom for a moment, she quickly grabbed her clothes and ran from the room. She claimed that in her haste, she had also scooped up most of Cooke's clothing by mistake. She said that she ran first to the manager's office and knocked on the door seeking help. However, she said that the manager took too long in responding, so, fearing Cooke would soon be coming after her, she fled the motel altogether before the manager ever opened the door. She claimed she then put her own clothing back on, hid Cooke's clothing, and went to the telephone booth from which she called police.

Boyer's story is the only account of what happened between the two that night. However, her story has long been called into question. Inconsistencies between her version of events and details reported by other witnesses, as well as circumstantial evidence (e.g., cash that Cooke was reportedly carrying was never recovered, and Boyer was soon after arrested for prostitution), invited speculation that Boyer may have gone willingly to the motel with Cooke and then slipped out of the room with Cooke's clothing in order to rob him, rather than to escape an attempted rape.

Ultimately, such questions were deemed to be beyond the scope of the inquest, whose purpose was to establish the circumstances of Franklin's role in the shooting, not to determine exactly what had happened between Cooke and Boyer preceding that. Boyer's leaving the motel room with almost all of Cooke's clothing, regardless of exactly why she did so, combined with the fact that tests showed Cooke was inebriated at the time, provided what inquest jurors deemed a plausible explanation for Cooke's bizarre behavior and state of dress, as reported by Franklin and Carr. This explanation, together with the fact that Carr's testimony corroborated Franklin's version of events, and the fact that police officials testified that both Boyer and Franklin had passed lie detector tests, was enough to convince the coroner's jury to accept Franklin's explanation that it was a case of justifiable homicide. With that verdict, authorities officially closed the case on Cooke's death.

However, some of Cooke's family and supporters have rejected not only Boyer's version of events but also Franklin's and Carr's. They believe that there was a conspiracy to murder Cooke and that the murder took place in some manner entirely different from Franklin's, Boyer's, and Carr's official accounts.




In her autobiography, Rage to Survive, singer Etta James claimed that she viewed Cooke's body in the funeral home and that the injuries she observed were well beyond what could be explained by the official account of Franklin alone having fought with Cooke. James described Cooke as having been so badly beaten that his head was nearly separated from his shoulders, his hands were broken and crushed, and his nose was mangled.

Nevertheless, no solid, reviewable evidence supporting a conspiracy theory has been presented to date.




With new DNA capabilities perhaps the case should be re-opened. If coroners/scientist can exhume a thousand year old mummy King Tutankhamun and solve the mystery of his death. Perhaps the case of Sam Cooke should be re-opened. His family and friends deserve to know the truth. What's your opinion?

The Sar Records Story

Tracklisting

1. Wade In The Water - The Soul Stirrers
2. I'm A Pilgrim - The Soul Stirrers
3. Praying Ground - The Soul Stirrers
4. Somebody - R.H. Harris & His Gospel Paraders
5. Sometimes - R.H. Harris & His Gospel Paraders
6. Amazing Grace - The Soul Stirrers
7. Pass Me Not - R.H. Harris & His Gospel Paraders
8. Oh Mary, Don't You Weep - The Soul Stirrers
9. Since I Met The Savior - The Soul Stirrers
10. God Is Standing By - The Soul Stirrers
11. Lead Me To The Cavalry - Sam Cooke, S.R. Crain & The Soul Stirrers (rehearsal)
12. Listen To The Angels Sing - The Soul Stirrers
13. Don't Leave Me Alone - The Soul Stirrers
14. Stand By Me Father - The Soul Stirrers
15. Jesus Be A Fence Around Me - The Soul Stirrers
16. Lead Me Jesus - The Soul Stirrers
17. Free At Last -The Soul Stirrers
18. Looking Back - The Soul Stirrers
19. Born Again - R.H. Harris & His Gospel Paraders
20. Wait On Jesus - R.H. Harris & His Gospel Paraders
21. Time Brings About A Change - The Soul Stirrers
22. Must Jesus Bear This Cross Alone - The Soul Stirrers
23. Yield Not To Temptation - The Womack Brothers
24. Couldn't Hear Nobody Pray - The Womack Brothers
25. Somewhere There's A God - The Womack Brothers
26. That's Heaven To Me

DISC 2

1. You Send Me (demo)
2. Just For You
3. Somewhere There's A Girl
4. You Were Made For Me
5. When A Boy Falls In Love - Mel Carter
6. Soothe Me - The Simms Twins
7. That's Where It's At - The Simms Twins
8. Everybody Wants To Fall In Love - Valentinos
9. Keep On Loving You - Johnnie Taylor
10. I'll Always Be In Love With You - Johnnie Taylor
11. Baby, We've Got Love - Johnnie Taylor
12. Baby, Lot's Of Luck - The Valentinos
13. Put Me Down Easy - L.C. Cooke
14. Rome Wasn't Built In A Day - Johnnie Taylor
15. Greazee Part I & II - Billy Preston
16. I Gopher You - The Simms Twins
17. You're Always On My Mind - Johnny Morisette
18. I Need Lots Of Love - Johnnie Taylor
19. Don't Throw Your Love On Me So Strong - Johnnie Morisette
20. Black Night - Johnnie Morisette
21. Damper - Johnnie Morisette
22. You Can Run (But You Can't Hide) - Johnnie Morisette
23. Meet Me At The Twisting Place - Johnnie Morisette
24. Good, Good Loving - The Simms Twins
25. The Wobble - L.C. Cooke
26. Lookin' For A Love - The Valentinos
27. I've Got A Love For You - The Valentinos
28. I've Got A Girl - The Valentinos
29. Tired Of Living In The Country - The Valentinos
30. It's All Over Now - The Valentinos

THE ART OF JAZZ VOCALESE

GEORGE V JOHNSON JR
Executive Director & Founder
Washington DC Jazz Network
wdcjn@hotmail.com






REMEMBER TO PAUSE MUSIC PLAYER WHEN WATCHING VIDEOS or LISTENING TO RADIO INTERVIEW WITH JIMMY HEATH BELOW
JIMMY HEATH.COM

Listen live!
THE GEORGE V JOHNSON JR SHOW
Join us in the Chatroom
www.blogtalkradio.com/george-v-johnson-jr
Toll Free Guest call-in number: (347) 637-3988


CO-HOST
LARRY RIDLEY
Executive Director
AFRICAN AMERICAN JAZZ CAUCUS
212-979-0304

"WORKING TOGETHER WORKS"