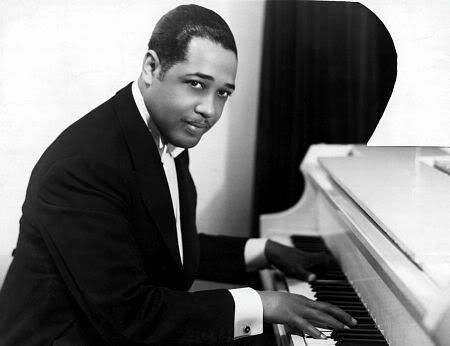 A
n Advocate for Preserving
A
merica's Classical Music "JAZZ"
It's African American Legacy,
Roots and Heritage
Executive Director & Founder
The Washington DC Jazz Network is very proud to present the
Sultry & Sensational! Beautiful & Charming! Classy & Exotic!
November 29, 2010
Jazz Vocalist
My debut at Blues Alley was a great success.
Thank you for your continued support and I hope to see you very soon!
I love you~~~Cynthia Holiday
A member of the Washington DC Jazz Network
Official Site
XXXXXXXXXXXXXXXXXXXXXXXXXXXXXXXXXXXXXXXXXXXXXX

Find more music like this on WASHINGTON DC JAZZ NETWORK
An exciting singer who always gets a strong reaction from her audience, Cynthia Holiday is a real crowd pleaser. Her heartfelt renditions of standards, blues, and ballads are full of swing, subtle creativity and soul.

Cynthia's gifted vocals and natural inclination for jazz is firmly attributed to her upbringing in Newark, New Jersey where music filled her home on any given day. Her stepfather Calvin Hughes, a jazz trumpet player, led his own band, Calvin Hughes and the Swinging Gents and performed with such jazz greats as Count Basie, Frank Foster, Clark Terry, Eddie "Lockjaw" Davis and Big Maybelle.
Hello Jazz Lovers..
I'd love to entertain you. Hope to see you soon!
Cynthia is rooted in paying respect to music icons she remembers hearing as a child. "My father mostly played the music of jazz musicians like Duke Ellington, Count Basie and West Montgomery. My mother played jazz vocal albums like Dakota Staton's "Late, Late Show" and Sarah Vaughan's "Vaughan and Violins" …I sang along with them all. And then, there is the Gospel music I clapped my hands to at Zion Hill Baptist Church in Newark…it's all a part of the music mix of who I am today."
Early on, Cynthia was a dancer, studying for years with the Garden State Ballet Company, touring with a modern dance company and even teaching dance during college. But singing was her true love.
Cynthia began singing in 1990 with a band called "Kiss & Tell", singing jazz and R&B covers. Eventually she began to study jazz vocals with the late pianist Duke Anderson and more recently with her current music director, Radam Schwartz. "My development as a jazz vocalist is attributed to lessons taught by the masters in class and on the bandstand. Early in my career, being Calvin Hughes' daughter afforded me the privilege to sit-in with some great musicians like the late Earl May, Harry Whitaker, the Bob Harris Orchestra and others. Today, I continue to study my craft and give countless props to the musicians in my band who I learn from and admire."

During the past few years, Cynthia has performed in a variety of settings, opening for Azar Lawrence at the 2009 Hartford Jazz Festival, guest appearing with the Les Paul Trio at New York's Iridium Jazz Club, featured vocalist at the 2010 International Women In Jazz Concert and performing live with her band on NBC TV 4, Early Today Show (April 2010).
Cynthia's debut CD is called "Cynthia Holiday…All The Way" and was initially teamed with producer John Snyder.
"Cynthia Holiday …All The Way" spotlights Cynthia giving her own personal touch to standards and introducing some originals. In fact, she co-wrote two of the tunes with Radam Schwartz, "I Like What I See" and "You've Got A Job To Do." When asked to pick out a few favorite selections for the CD, Cynthia says, "My Little Rainbow" is a lovely tune along with "Samba de Amore" which is a light samba. "There was no common theme for the CD, except that it should be a combination of music genres and songs I enjoy, but perform in the style of a jazz singer.
Since her debut release, Cynthia has been performing in night clubs and private bookings. But get ready for her upcoming CD release, titled "Collaboration", mostly a collection of original music from artists she knows and respects. "In my opinion, each of the songs has great character and I relate to the lyrics. I'm also excited about the new project because I have grown musically since my 2008 CD and I look forward to expressing who I am today."
"I met Cynthia several years ago when I used to frequent various jam sessions in Harlem clubs and was struck by her ability to quickly command the stage," says jazz singer Kevin Mahogany." She has fantastic stage presence and it's time for her music to be heard."
"Her time has come with this release," says WBGO Jazz88 FM host Sheila Anderson. "Cynthia seeks to continue the tradition of jazz women who sing the blues, a style that has become a lost art among vocalists. I hear the humor of Helen Humes, the soul of Ernestine Anderson, the warm timber of Mary Stallings and the storytelling of Marlena Shaw, but make no mistake, what you hear is pure Cynthia Holiday!"
"I am a strong believer in the power of positive thinking, divine order and divine intervention; therefore, my daily life and music are led by enthusiasm and appreciation for each day. Simply stated, I L-O-V-E to perform and I'm blessed to be on the journey."
• Blues Alley Jazz Super Club, (WDC) 2010
•I ridium Jazz Club with The Les Paul Trio (NYC) 2010
* Trumpets Jazz Club with Monty Alexander & Stanley Jordan..(NJ) 2010
• St. Nicks Pub with Bill Saxton (NYC) 2010
• International Women In Jazz Festival… (NYC) 2010
• Jazzmobile Vocalfest… (NYC) 2010
• Hartford Jazz Festival open for Azar Lawrence (Ct.) 2009
• Riverside Arts & Music Festival… (NYC) 2009
• Birdland Jazz Club with John Hicks ….(NYC) 2008
• Newark Symphony Hall Celebration...open for Roy Ayers (NYC) 2008
• St. Maarten Jazz Festival… Netherlands Antilles (2008)
• NBC TV 4 Early Today Show…2010 (Featured Live Guest Performance)
• O-Magazine…(Fashion & Beauty Trend Setter)
• New York Trentononline.com (Feature – Debut CD "Cynthia Holiday…All The Way")
• Ebony Magazine…Lifestyle Story
• The New York Beacon Newspaper (You Go Girl! Feature)
• Caribbean Life Newspaper (Music Artist Feature)
• JAZZIZ Magazine (Music Artist Feature)
• EUR online magazine (Music Artist Feature)

Lillian A. Smith, LS Production Works!
201-401-7902
info@cynthiaholidaymusic.com
November 22, 2010
DONALD TAVIE'
A Member of the Washington DC Jazz Network
I'm a prostate cancer survivor. Thank God I'm alive.
Here's my Testimony~~~Donald Tavie
November 1, 2010
The Washington DC Jazz Network welcomes radio personality Gigi Brooks.
WUCF 89.9 FM Jazz and more....
I love you!!
I'm a member of the Washington DC Jazz Network
Gigi Brooks
Gigi Brooks has been collecting jazz records since the age of 8. Her first radio show "Gina's Jazz" aired on WHPK 88.3 Chicago at the age of 15. Now in its second year, her show "GG's Steamin' Greens" is the highest rated jazz radio show in the country, featuring Classic, Contemporary, and Fusion jazz artists. It is known for its eclectic playlist and feature artists. Gigi is a well respected jazz officiando among major jazz artists. She also participates at major events as MC and helps promote some of the best concerts to date.
Saturdays 4-8 p.m. EST.
Read more about GG here...

Follow 'Steamin Greens' on Facebook
XXX
October 25, 2010
Lutalo Olutosin [pronounced O-la-TO-sin]
Born in East Chicago, Indiana. Raised during early life in Gary, Indiana, Lutalo (Lu) moved to the South East in the mid 1970's. Influenced heavily by a family filled with Gospel singers and musicians, he followed suit until hearing an Eddie Jefferson song on the radio. Everything changed, especially his approach to listening, judging, and singing the music that inspired him. Click to read more...